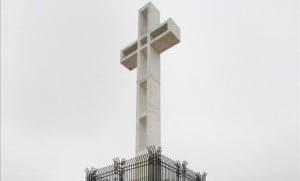 It's a case that's been in the courts for many years – and now, this question: will the case involving the constitutionality of the Mt. Soledad Memorial Cross in San Diego go to the Supreme Court?
As you may recall, a three-judge panel of the U.S. Court of Appeals for the 9th Circuit declared this long standing memorial unconstitutional. We filed an amicus brief in March asking the full appellate court to take the case.
In our amicus brief, we contended that the federal governments acquisition and operation of the Mt. Soledad Veterans Memorial including its commemorative cross is consistent with the Establishment Clause and that the three-judge panel erred when it declared the memorial unconstitutional in January.
That brief was filed on behalf of 17 members of the 112th U.S. Congress and Advocates for Faith and Freedom, a California-based religious liberty law firm. We represented the following United States Representatives: Randy Forbes, Chairman of the Congressional Prayer Caucus, as well as Robert Aderholt, Todd Akin, Roscoe Bartlett, Mike Conaway, Jeff Duncan, Renee Ellmers, Virginia Foxx, Scott Garrett, Walter Jones, Jim Jordan, Steve King, John Kline, James Lankford, Jeff Miller, Joe Pitts, and Joe Wilson.
Now, a decision from the 9th Circuit – the full appeals court will not hear the case. The appeals court rejected the request for an en banc hearing, meaning the decision by the three-judge panel declaring the memorial unconstitutional still stands.
In an unusual move, however, five of the Judges from the 9th Circuit issued a dissent opinion – disagreeing with the majority decision to not rehear the case.
In a powerful dissent opinion, Judge Carlos T. Bea concluded:
"History is important, in part because things change over time. The Spanish government of the day endorsed the Inquisition until the early years of the 19th Century. Would a reasonable observer therefore consider the edicts of King Ferdinand VII in determining whether today's Socialist government endorses the Inquisition? Of course not."
"The panel concentrated its analysis on the history of the Cross as a religious symbol. Not on how this Cross at Mt. Soledad has been used by this government, but on the cross in general. . . ."
Here's a question for the Department of Justice. Will the DOJ file a petition for a Writ of Certiorari with the U.S. Supreme Court? Will the DOJ make a formal request for the high court to take the case? The DOJ has until January to make a decision on whether to ask the Supreme Court to get involved.
It is critical that this case go before the high court. The flawed lower court decision must not be permitted to stand. It's time for the DOJ to stand up for our nation's history and heritage and take this vital First Amendment case to the Supreme Court.
Stay in touch with us for more information about this case and other important issues. You can get the latest on this issue here.