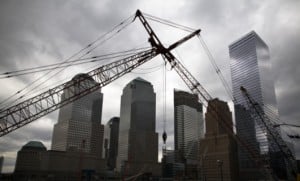 It has taken a decade, but there's finally an agreement in place to permit the reconstruction of a landmark church at Ground Zero in New York City.
St. Nicholas Church, founded by Greek immigrants in 1916, was destroyed in the attacks of 9/11. It appeared an agreement had been hammered out in 2008 to permit the rebuilding of the church to occur. However, that did not happen. In fact, the ACLJ got involved earlier this year calling on the Port Authority of New York and New Jersey (Port Authority) to move forward with the rebuilding project.
In our letter, we contended that the Port Authority misrepresented the nature of its preliminary agreement with St. Nicholas Church, engaged in fraud while moving away from negotiations, relied upon defamation to mask its activities, and trespassed on St. Nicholas Church property without warrant or legal justification. We argued that the Port Authority's activities were a violation of St. Nicholas Church's rights under federal law 42 U.S.C. 1983 and the First, Fifth, and 14th Amendments of the U.S. Constitution.
I'm delighted to report that an agreement has now been reached, and plans are moving forward to rebuild the church on its original site.
As New York Governor Andrew Cuomo put it: "We lost St. Nicholas Church in the destruction of September 11 and for too long its future has been uncertain. Rebuilding St. Nicholas Church, with a nondenominational bereavement center, is not just good news for the Greek Orthodox community, but for all New Yorkers. With this agreement, we are continuing New York's collective healing, restoration, and resurgence. Now we are finally returning this treasured place of reflection to where it belongs."
And, this from the Greek Orthodox Archdiocese of America: "St. Nicholas Church has finally found its place, after 10 years of waiting, in the new reality of Ground Zero."