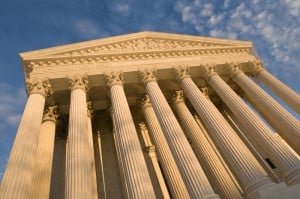 With a majority of Americans continuing to reject ObamaCare – the government-run, pro-abortion health care law – there's now a new poll that underscores what most Americans want: 70% of Americans favor individual choice over government standards for health insurance.
This comes at a time when the legal challenges to ObamaCare are intensifying with the latest petition filed this week asking the Supreme Court to take a case challenging the flawed health care law.
That development comes just days after the Commonwealth of Virginia filed filed its Petition for Writ of Certiorari with the Supreme Court asking it to take its case and overturn the Fourth Circuit Court of Appeals decision that the Commonwealth lacked standing to sue against ObamaCare.
Virginia's petition asserts, as we have argued in our own suit challenging the law, that the individual mandate of ObamaCare – forcing individuals to buy a particular service against their will – is unconstitutional.
The mandate and penalty are also not supported by the text of the Commerce Clause, which presupposes an activity to regulate. The historical context in which the Commerce Clause was drafted makes it highly unlikely that it included a power to command a citizen to purchase goods or services from another. Certainly there is no tradition or history of the Commerce Clause being used in this way.
As you know, the ACLJ has supported Virginia's challenge to this unconstitutional violation of our personal liberties from the beginning. We filed an amicus brief representing 49 Members of Congress – including House Speaker John Boehner and House Majority Leader Eric Cantor – and over 70,000 Americans from across the country.
As Virginia's petition points out, the number of cases heading to the Supreme Court challenging ObamaCare and the split in the federal circuits, "maximize[s] the likelihood of [the Supreme Court] reaching the merits" and quickly deciding this important constitutional case.
At the same time, we are backing Florida's challenge to ObamaCare. As you may recall, the Obama Administration has asked the U.S. Supreme Court to take the case out of Florida (involving 26 states challenging ObamaCare) and review the decision of a federal appeals court striking the individual mandate of ObamaCare.
We will continue to support these efforts out of Virginia and Florida to overturn this pro-abortion law as we await a decision from a D.C. federal appeals court in our own lawsuit challenging ObamaCare, which we expect to end up at the Supreme Court as well.
Ultimately, the Supreme Court will decide ObamaCare, and I am confident that it will find this law – and its overarching restriction on liberty – unconstitutional.
We will continue to keep you updated as these critical cases progress. You can get the latest information on this and other critical issues by visiting the Jay Sekulow page at our website.