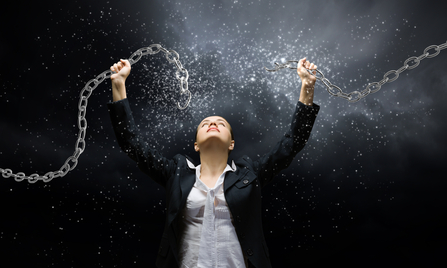 Mike Bundrant is Co-Founder of the iNLP Center for NLP training and personal development.
What would you rather do?
1. Let go something important (like a career, marriage or friendship).
2. Remain committed to something that causes you ongoing pain?
All else being equal, it makes sense to quit things that cause more misery than happiness. The hard part is knowing what to quit and when. And it can be so complicated!
I've written a post that shows you how to know when to persist and when to quit. And it even comes with free worksheet to help you sort out that specific example in your life. Check it out.
Now, let's figure out why we often opt to hang onto the painful things in life, even when there are other, less painful alternatives
Disclaimers:
1. Whether you quit something or not – it is your responsibility. Nobody on this earth but you can make the call.
2. I am not intending to spare you the agony of choosing what or when to let go of. Such agony is good for all of us, in my opinion. Making big decisions requires effort and emotional investment. My goal here is to help make the factors more clear to you, which moves the process along.
So, let's suppose you're dealing with something that causes you ongoing pain. It's a big deal, like a marriage or family relationship, job, friendship or other association (such as a church or community group).
Are you experiencing more pain than pleasure in this particular scenario? If so, you may be thinking it is time to call it quits. Even more so if all of your efforts to turn things around have failed.
Seems obvious, right? But it isn't so obvious.
Here's the problem…
The problem is, pain is often cloaked in the pleasure of familiarity, self-justification or a trade-off. When this is the case, we cling to painful situations, often for the long haul.
Let's break these down…
1. Familiarity. Familiarity is pleasurable. It signifies safety and comfort. It feels like "home." All else being equal, most of would settle for less happiness that is familiar over more happiness that seems foreign.
When emptiness, inner conflict, resentment, anxiety and negativity are what we've gotten used to in life, we often resist every opportunity to leave situations that perpetuate the familiar misery.
Ask yourself – am I clinging to this painful situation because it represents something familiar to me?
2. Self-justification. To justify yourself means to make yourself appear right or even "righteous." A lot of us achieve self-righteousness through suffering. The suffering is even more potent if we can pin it on someone else.
For example, let's say you're in depressing career and have been resisting the idea of doing something else. You say, "Yeah I'm in this career that I hate. My parents insisted that I do it and they get angry if I even bring up the idea of doing anything else."
Now, you're self-righteously self-justified. It doesn't feel like it's your fault. It's your controlling parents' fault. You're finding some innocence in the fact that you aren't responsible.
And your misery continues. You're paying for your innocence with a miserable career path. Breaking away also means breaking away from your parents. There will be no one to blame at that point but you.
3. Trade Offs. Trade offs are oh so common. We get into "convenient" situations, then suffer through them because of what we are getting in the trade.
Examples of trade offs:
Bad marriage – but lots of money on one side of it.
Bad job – but comes with prestige.
Bad friendship, but comes with other connections or opportunities.
Bad dating partner, but comes with sexual benefits.
Bad parents, but comes with an inheritance.
Are you making a trade off in your life? The best policy is to be honest about it and make a decision based on the facts.
Resources:
Check out the article here on persistence, quitting and self-sabotage. It comes with a free worksheet to help you get clear.
If you thing you are engaged in self-sabotage by clinging to painful situations, then you must watch this enlightening free video on the cause and cure for self-sabotage.
Like my Facebook Page to keep up with all my writing.