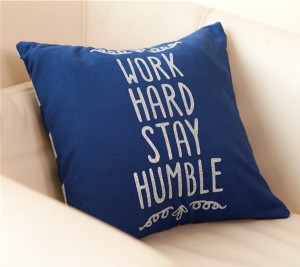 Mike Bundrant is co-developer of the iNLP Center for personal development.
Spiritual greats have been telling us for thousands of years. True leaders are humble.
It turns out that modern research in business leadership has identified humility – or modesty about self – to be the one quality that inspires the very best from employees.
In fact, when it comes to inspiring employees to be hard working, loyal and committed, a recent study shows that the only opinion that really makes a difference is that of the employees themselves.
It turns out, the qualities and abilities that many managers think are necessary to drive productivity have little or no impact on an employees' willingness to go the extra mile. In fact, what really motivates employees is having a manager they deem worthy of their commitment.
A study was conducted by Karoline Hofslett Kopperud, along with Associate Professor Sut I. Wong Humborstad and Professor Øyvind Marinsen of the BI Norwegian Business School. The trio of researchers studied the responses of 1500 people in leadership roles, along with their respective employees.
As part of the study, leaders and employees were interviewed to determine what managerial traits make a successful leader. While many people in leadership roles touted their own success and managerial abilities, their employees did not necessarily concur that they were good leaders.
To the contrary, the study showed that employees had the highest opinions of leaders who were modest about their abilities and aware of their own shortcomings. Furthermore, employees who viewed their leaders in a positive light, were more likely to increase their level of workplace commitment and dedication. A conscious decision that appears to be inspired by leadership, rather than demanded.
The behavior is what researchers refer to as transformational leadership. Those who conducted themselves with humility and sincerity were valued by their employees. Being a reliable role model for the workplace was a key element in gaining the admiration of employees.
Leaders who were critical about their own management style were also more likely to be revered by their staff. The findings of the study leads to questions about how those in charge perceive which leadership skills have the strongest effect on the workforce.
The results of the research could bring about changes in how corporations train their leaders. The ultimate role of any leader is to foster a productive and committed workplace. Transformational leadership clearly has the highest success rate when it comes to building a strong workforce.
Self-insight into a person's own ability to lead makes a fundamental difference in employee perceptions, and researchers feel that it should be a focus of leadership development programs. Teaching high-level managers and leaders to analyze their own actions and see things from the employees' point of view will enable better relationships and create a positive work environment.
Mike Bundrant is co-developer of the iNLP Center, which features the NLP Practitioner Training, now on Amazon.com.
If you like this article, then like my Facebook Page to keep up with all my writing.
Source:
http://www.sciencedaily.com/releases/2014/08/140826085720.htm