You can't compare an apple to an orange. It will cause a lot of self-esteem issues.
~Craig Sheffer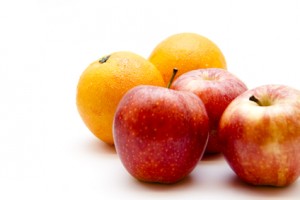 Do you suffer by the way you compare yourself others? If so, this article will act like a mini-workbook to help you. You may want to print it out so you can do the exercise at the end.
Comparing yourself to others is NOT something you should try to stop doing. Why? Because you can't. You will never succeed is NOT noticing what others can and cannot do compared to you. You will always notice how people are the same or different than you. We're hard-wired to notice.
Think it through…
The question is, what will do you with the inevitable comparisons?
An apple sees and orange and says, "Wow, look at that orange. It's so orange, fresh and juicy! I'm just a crummy apple." The apple suffers a hit to its self-esteem.
An orange looks at an apple and says, "Boy that's neat. That apple is shiny red. I like red. And I like being orange. Throw in some purple grapes and let's throw a salad!" The orange enjoys the apple and even some grapes, and doesn't suffer low self-worth from the comparison.
The above quote by Craig Sheffer states that you can't compare and apple to an orange without suffering low self-esteem. I say that the nature of the comparison is what makes this true or not. You can and will compare. What happens to your self-esteem in the process depends on how you do it.
Few things are more damaging to your self-worth than comparing yourself to someone or something (like a fantasy) that you will never be. You will never be anyone other than yourself. Your fantasies (being born as royalty, magically transforming into a movie star) will not come to pass.
You can, however, enjoy other people in all their glory while refusing to suffer by the comparison. Meanwhile, you can keep working on your strengths and developing the talents you have (that others don't).
Do this exercise…
To whom do you compare yourself unfavorably (like the apple?) List 3 people:
1.
2.
3.
Pick one of the above people and ask yourself, "How can I enjoy this person without thinking I need to be like them? And, do I really NEED to be like this person? (Think like the orange.)"
What fantasies do you harbor that reflect poorly on your real life? List 3:
1.
2.
3.
Choose one of the fantasies that you'd like to let go. The one that distracts you most from what you need to be doing in your real life. Then, commit to dismissing the thought of it as it arises. You can do it!
Comparing yourself to others is often a personal act of self-sabotage. It's a form of self-rejection. And it's painful.
If you cannot stop suffering by your comparisons, then you should consider that you have an issue with self-sabotage. Self-sabotage is a deeply unconscious process that reflects mental and emotional programming from an earlier period of life. To learn more about self-sabotage and how to stop it, watch this free and enlightening video.
If you like this article, then like my Facebook Page to keep up with all my writing.