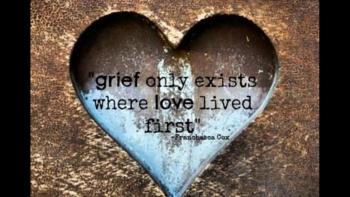 Grief is the last act of love you can give to someone you loved. Love is not finite. You don't stop loving someone because the person is dead. Love reaches past death. It touches the soul of the departed.
Grief is love you want to give to the person.
Grief is love that you want to give to the person. But its maddening to know you can't enter the after world and hug your loved one. You can't make love to the person anymore. There's no more meals or walks together. No more visits. All that's left is an ache in the soul and a longing to touch and see one another.
That's why grief is important. It lets you remember and work through the emotions of sorrow, guilt, loss, and regret. Grief brings healing. But grief also brings love through the act of remembering someone. It is all that love you want to give but don't know how to anymore.
How do you love someone who is gone?
Don't be afraid to talk about the dead. That means talking about the good, the bad, and the ugly. The person lived a life that wasn't always perfect. So don't try to pretend otherwise. Say the person's name. A name has power. It brings love and hope of reuniting. Remember anniversaries. Honour the deceased with some small ritual, like lighting a candle or prayer. Talk to the person about your life and what's going on in it. That energy connects your souls and you may get some help from the other side.
Love never dies.
You might feel you're past the death of someone you've loved. Emotionally and psychologically it can be true. But memories, anniversaries, places, and people do bring back memories. Something triggers you. You start crying, or feel immense sadness. That's because you miss the dead.
And while you might think and feel that your life has moved on, its only been transformed into something different. The dead person is no longer taking space in your life. But he or she is still holding space in your heart. Memories bind you together, and the energy that is released is shared between souls. You've changed how you interact with others. Activities you used to enjoy don't matter anymore.
It's not what you do, it's how you feel.
Grief is very personalized. Yes, there's a process the human body goes through. But how you feel in each step and how long each step takes is completely up to you. One size doesn't fit all. Nor should it. Grief isn't about what you do to feel better. It's about how you feel at the moment.
So grieve in your own way. Cry until tears run dry. Release pain and let it drain out from the deepest depths of your heart.
Then, let the warmth of love blanket you. Let your angels and guides console and help move you forward. See the signs and wonders sent from the other side. Accept that love still connects you with your loved one, and that you were not left alone.
Find me on twitter @tereziafarkas or visit me at https://tereziafarkas.com