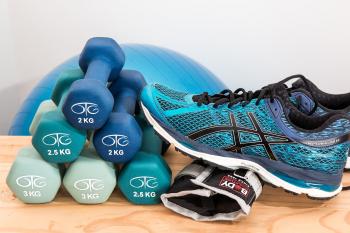 Exercise is important no matter your age, right? Well according to one study of 2,000 adults, on average the age when most feel too old to work out regularly was only 41 years old. Two in five respondents felt too old to get back in the gym as well. Could this really be the case?
Doctor Rangan Chatterjee, and author of Feel Better in 5, says exercising in our 40s is vital. "Exercise will help no matter what age you are," he says. "But once we're over 30 we start to lose muscle mass each year – and lean muscle mass is one of the main predictors of longevity. So exercise, especially strength training, becomes arguably more important than ever."
The main reason most people turn away from the gym is lack of time, which is understandable given jobs, children, and the like. However it shouldn't be an excuse, according to experts. A total of 42 percent said their schedule was the main reason to neglect fitness. Only 29 percent of Americans consider working out to be convenient.
The survey, conducted on the behalf of the fitness app Freeletics, found that 25 percent "stayed too late at work" as an excuse for skipping the gym, while 36 percent said they have too much work to do in general. There were other excuses as well, such as being too tired (56 percent).
Even further, many respondents also used the weather as an excuse, such as "the weather is too bad" (33 percent) and "the weather is too nice" (10 percent).
Despite not working out as often as they should, respondents realized it was important to do so. The majority (69 percent) of respondents believe that a better exercise schedule would help them do away with their bad habits. When asked what would help them exercise more, the top responses from respondents were a home gym (45 percent), cheaper fitness alternatives to the gym (28 percent), fitness classes with friends or co-workers (28 percent), and a personal trainer to help with accountability (27 percent).