This is a guest post by Taha M. Raja. Second in a series; See Arbaeen Day 1 for the previous entry.
Post 580. It 5:30am and we resumed our walk to Kerbala. Breakfast on the road. Samoon (Iraqi fresh bread) with lentil soup a tradition for millennia of the Bedouins. Hit Iraqi black tea with a layer of sugar on a shot glass. Batteries recharged and ready to go for the next 25 miles. Our goal is to be in kerbala at the shrine of Abbas AS by midnight. We will walk the beautiful but dusty morning until around noon. Weather underground says temp today expected to rise from cool 61 to 97 by mid day.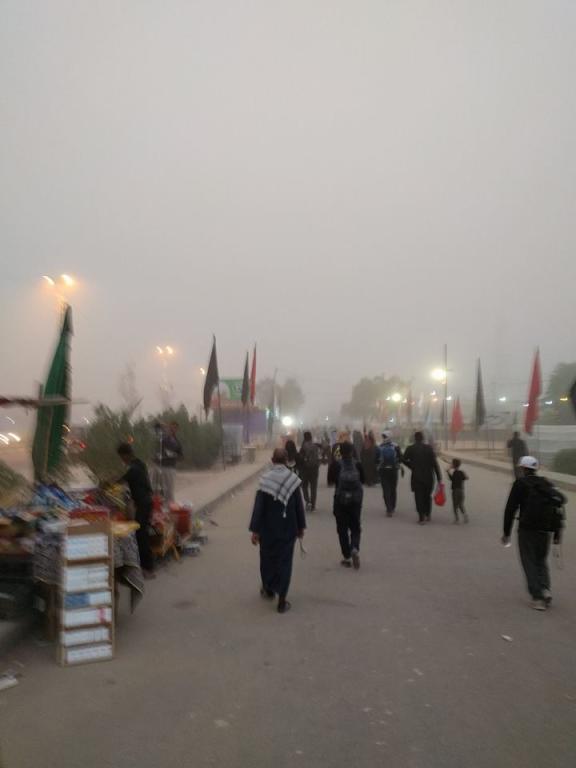 Post 590. Update: Found a kebab place. Augmenting my breakfast of champions with fresh kebab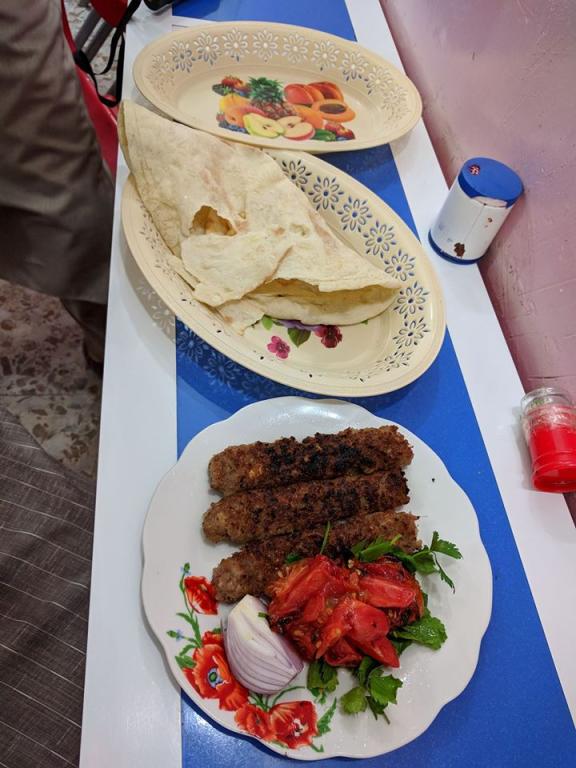 Post 700. It is 10:45AM. Temperature has rapidly risen to mid 90s. The dust storm has passed and the bright desert sun is back again. We will attempt to cross post 900 and then break for the day until sunset. Resume walking after maghreb (sunset).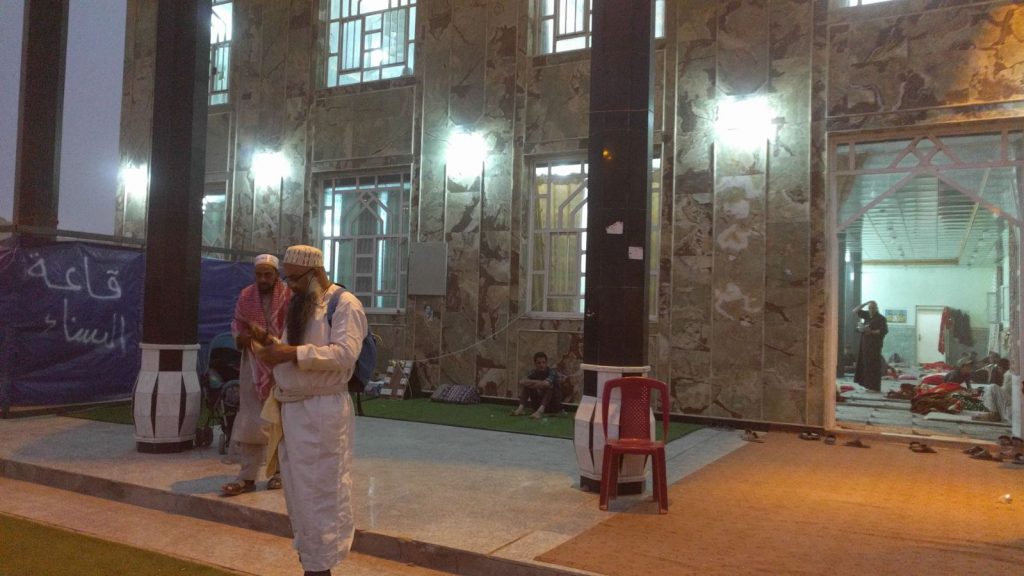 Post 890. We arrived at 12 noon. It was zuhr time. Temperature was almost 100 deg F. We have walked another 9 miles this morning. Total journey so far 31 miles. Festivities, volunteers, and the human waves increase as we approach Karbala. Lunch was being served by Baitool Abbas and Iranian organizations volunteering and serving food. Lentil soup with rice and pickled vegetables. Amazing as volunteers were serving hundreds of pilgrims irrespective of your belief, race, creed. The food was good as we ate and then continued to our afternoon stop at post 890.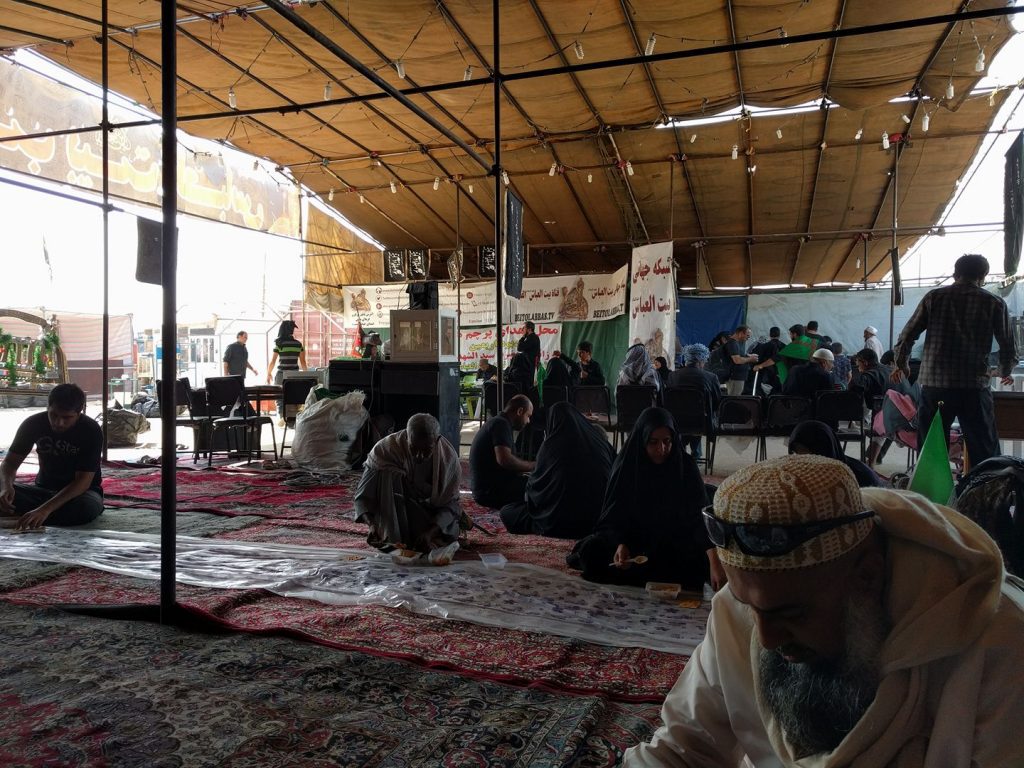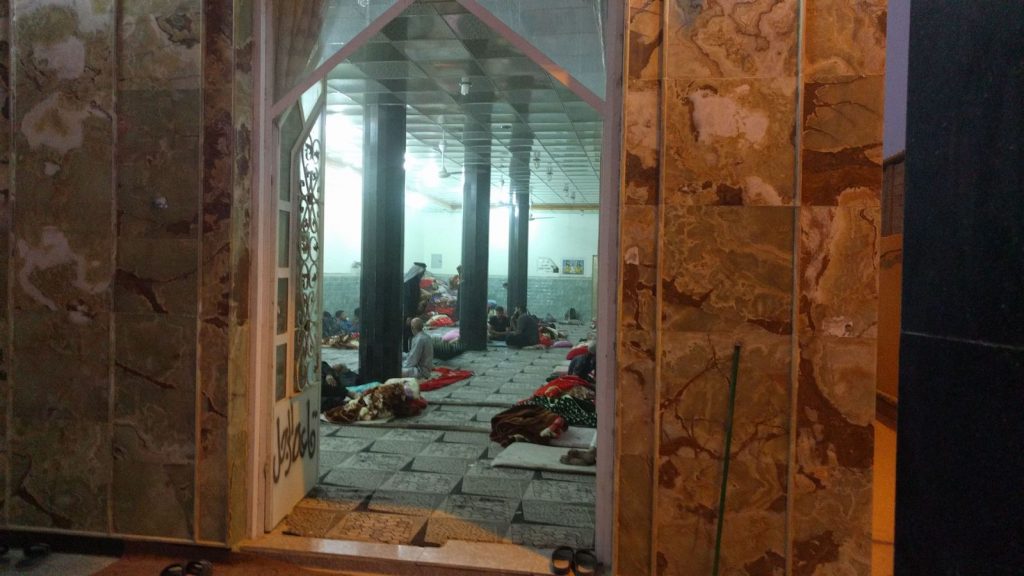 Post 1010. 6pm we left our post 890 and started walking after maghrib. After a few blocks we saw a stall where there was a short queue and the smell of fresh grilled meat and tomatoes and onions. Upon closer inspection it was exactly what the doctor ordered. Fresh ground beef or camel meat with onions lightly seasoned in fresh pita bread. We stood in line and got our share. Again no charge to the pilgrims. Man that sandwich could not taste any better. After a hard days walk it was arguably the best sandwich ever. Right across was ice cold coke. I had not drunk a Coke in ages but today ice cold coke from the classic bottle and the best ground meat sandwich was the best meal ever. We savored every bite knowing full well that this short blissful moment will end soon and we will need to resume our March to Kerbala.
But that short rest for a good meal was what we needed. The dust storm has stirred up again and visibility is low. But the nights are cool. We are now at post 1010. Our goal is 1200 tonight before we will retire again. We will do the remaining 252 posts tomorrow. That is the plan so let's see what happens….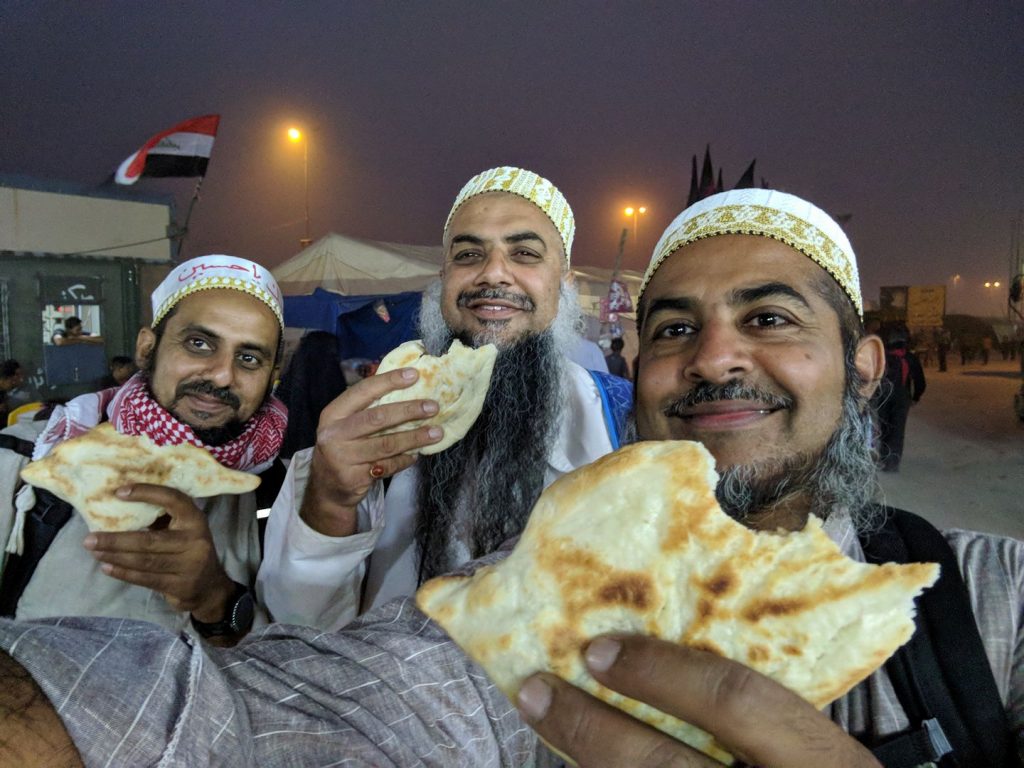 Post 1180. we found a great spot to spend the night. An AC hall…man that is a gift. We know we will have to still do 8 miles tomorrow approximately 4 to 5 hours of walking. But that was good compromise. My feet are hurting and my body says to stop. My spirit is elated and pushing me to go. But if I am going to successfully finish this then I need to listen to my body and stop and recuperate. Our initial goal at start was to finish the walk in 2 days and one night. But the truth is 2.5 days and 2 nights.
This journey truly allows you to appreciate the human spirit the shared journey that each of us is making. In a country and a region which from my home looks like a lost cause….you get reinvigorated in the your trust that people are fundamentally good and we strive for the same things. A common bond does indeed tie us. It was good to see this for me for it allowed me to truly connect again to something I have always believed but had gotten rusty with my age and skepticism that has set in with our recent world events.
I look forward to my last steps tomorrow as the images of kerbala and sacrifices made will play out as the human waves marches towards the shrines of Imam Husain AS and Abbas AS. With this single goal of kindness what can we all achieve will be in display at Arbaeen 2017. The citizens of Iraq and all volunteers who endeavour in this feat every year to help millions each year complete this feat is a small testimony of the battle of kerbala and what has inspired generations for the ages.
May all walkers of Arbaeen finish this journey in good health. May it be a small gift to you to inspire you in this journey we call life.
See you again tomorrow.
Taha is an avid professional photographer, and the founder of Brambleberry Tours, specializing in photography safari trips to East Africa. The next post in this series is Arbaeen, Day 3.