I started City of Brass in March 2002 at Blogspot, and moved to Beliefnet in August 2008. Over a thousand posts and a million page views later, it is time to end this chapter and start a new one.
However, I am not technically going anywhere – Beliefnet recently acquired Patheos, where I am going to focus my blogging at my more politically-oriented blog, Aziz for America.
Blogging is a reactionary process. I started City of Brass as a response to 9-11, because as a Muslim and an American, needed an outlet to relieve the tension between these parts of my identity. It was almost a form of therapy. I think I've said everything I needed to say about 9-11 in the 15+ years since. I have written about the Qur'an, Ramadan and Ashara, about the moon and the stars, about headscarves and human rights. I debated moonsighting and defended Milad al Nabi and ziyarat. I openly respected Judaism and Christianity as Abrahamic faiths, but was skeptical of Ummah. I talked about the Uyghurs and the Rohingya. I wrote about the war on terrorism and its attendant Islamophobia. I have refuted the libel of Muslims' silence and pointed out the silence of others. I have tackled illegal NYPD surveillance, asked and answered questions about Park 51, and proved with data how Muslim informants have saved lives. I have critiqued intersectionality and the drone war, and expressed relief at the execution of Awlaki and 5 stages of emotion over the death of Osama. I articulated a Muslim political agenda, discussed whether Islam was a religion of peace or justice, asked how muslims can combat extremism, and proposed a Islamic dojo solution to the unschooled scholar problem. I shared the stage with amazing guest bloggers who kept raising the bar. I even kept a sense of humor 🙂 And throughout it all – I always found a way to honor America and honor Islam, and prove that there is no tension between these two great ideals whatsoever, and never was.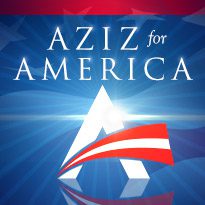 Today, the greatest challenge to my identity is my understanding of America itself, which is not threatened by extremists from outside who share my faith, but from extremists from inside who share my citizenship. This is why it is appropriate that I leave the fold of "Muslim bloggers" and instead embrace a more political agenda. Simply put, I want to make America America Again. I invite you to join me.
Of course, I am also on Twitter (@azizhp) and Medium (@azizhp), as well as geekblogging at Haibane.info. If anything, I have too many outlets 🙂
It has been a pleasure working with the folks at Beliefnet. I entrust them to maintain my legacy of writing here online for posterity, and I am proud to have been a part of it. Thank you to Dilshad, who recruited me, and Sharon, who guided me, and to everyone else at Beliefnet for giving me this opportunity. See you at Patheos!