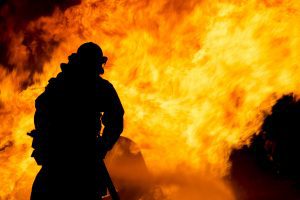 Firefighters in West Virginia got an unexpected miracle just a few days before Lent began. On Sunday, March 3, 2019, members of the Coal City Fire Department in southern West Virginia tackled a devastating fire that destroyed a local church. The firefighters were dispatched to Grandview, West Virginia early in the morning on Sunday in order to assist the Beaver Volunteer Fire Department. They found a fire that was raging in Freedom Ministries Church, and it eventually grew so hot firefighters were forced to leave the building. When they went back inside after the fire, they found that not a single Bible in the building had been harmed.
"Picture this, a building so hot that at one point in time, firefighters had to back out. In your mind, everything should be burned, ashes. Not a single Bible was burned and not a single cross was harmed!! Not a single firefighter was hurt! Prayers for the pastor and the congregation today," the fire department posted on Facebook. "Though odds were against us, God was not."
God seems to be keeping special watch over the area since other firefighters and emergency workers reported similar experiences.
"Out of every structure fire I have responded to in the past 20 years, not one Bible has burned, they might have smoke damage or charred around the edges but you could still read every page. We gave the owners back a lot of Bibles over the years. It just goes to show that God's word is more powerful than the devil's fire and fury no matter how hot it gets. God was watching over all you guys last night, and every fire call y'all go on," said Dean Vandall.
Erin Hoover, a volunteer firefighter, said she also had an experience where a Bible miraculously remained unharmed after a major fire.
"I was a responding volunteer firefighter on September 11 to Flight 93 in Shanksville, Somerset County," Hoover said. "We were walking in the woods yelling for survivors, and looking for the wreckage, when we got on scene. We found wallets and papers, blowing in the wind that were charred and burnt. Unreadable. We did, however, find a Bible. Untouched. Completely readable. I don't talk much about responding that day, but felt compelled to share my story too. I have PTSD from that call. But you're right. God is with us on those bad calls, those bad days. You just have to look up."
As for Freedom Ministries, they have vowed to continue their work. "We will have to rebuild, but we will be okay," the ministry reported. "We will fight the enemy and not let him hold us down…Freedom Ministries is [not] undone; we are not finish[ed]!"
It is certainly hard to imagine them giving up after receiving such a miracle.