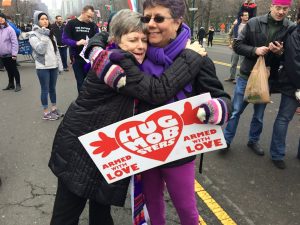 When my friend Robin Renee invited me to participate in a worldwide Blog March, I was an enthusiastic YES! Like many in my circles, she is feeling a sense of overwhelm over the current political climate and wanted to do something constructive about it. Being a creative soul as a singer-songwriter, journalist, and teacher, she came up with the idea of gathering together her passionate, prolific and outspoken friends and have each of us pen something that offers a sense of optimism and perhaps even a call to action.
Because I am action oriented, I want to share with you a powerful way that I have faced the challenges that have ensued since last November. In addition to being a journalist, who writes often for Beliefnet and HuffPo as well as Psych Central, Elephant Journal, and The Good Men Project, I am also one of those folks who carry a sign which indicates that I offer FREE Hugs. My journey to becoming what my friend Tom calls a 'Mutha Hugga!' began on Valentines' Day weekend of 2014. I gathered friends at 30th Street Station in Philadelphia and we did a Free Hugs Flash Mob surprising the travelers who passed through on their way to who knows where. Friends started calling us Hug Mobsters. It felt out of synch with my pacifist sensibilities, so I added the tag line: Armed with Love. Since then, I have taken my huge hug mission on the road, here in Bucks County, PA, in Philadelphia, DC, Phoenix, at my polling place on Election Day, at parades, community events, socially conscious rallies as well as athletic races. On October 15, 2016, along with huggers in 20 cities nationwide, I was enfolding willing passersby at the Love Sculpture in The City of Brotherly Love and Sisterly Affection at an event called Hugs Across America. I proudly carried my Hug Mobsters sign and offered my open arms at the Women's March in Philadelphia immediately following the inauguration.
What I have discovered is that in addition to the health benefits of hugs, which are:
Enhances brain development
Provides pain relief
Creates a sense of trust
Strengthens the immune system
Increases the 'feel good' chemicals oxytocin and dopamine
Enhances non-sexual intimacy
Reduces drug and alcohol cravings
High-fives and hugging teammates improves performance
When teachers touch students on the shoulder, class participation increases
they also have a way of bridging the gap between people of various orientations- spiritually, politically, culturally, socio-economically and sexually. When I hug people, I don't know who they voted for, although I was turned down by supporters of the other political party when I strolled around the grounds of my local polling place in November. Wondering if my own left-leaning values were tattooed on my forehead. Most people are open to sharing hugs and for those who are not willing, I encourage them to hug someone, if not me.
A few weeks ago, I was meandering up and down South Street in Philadelphia during an annual street fair and came upon a man gripping a megaphone and spewing hateful speech about anyone who didn't fit into his tightly contained box of pseudo-Christian beliefs. As I stood in the crowd and observed, I felt moved to go up there and ask, "Who would Jesus hate?" and declare, "Hugs not hate, " as I offered to embrace him. Lacking the necessary courage, I refrained. Perhaps next time the opportunity arises, I will be bold.
I invite you to open your arms and heart and hug it out! You never know the difference it might make.
I pass the baton on to Marcia Bazcynski as she shares the next steps in our Blog March.