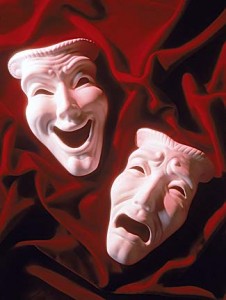 Have you noticed days in which things don't go as planned, people don't follow through as they have agreed to do, you find yourself behind a construction truck when you are already running late, clients cancel, or a certain world leader embarks on yet another chaos inducing decision, taking the rest of us along for the roller coaster ride, sans seat belt? There are times when it appears that we are improvising our way through each 24 hour period, no script, no rehearsal, winging it.
Lately, I have been acutely aware of such dynamics. Since there is an illusion of control, I have needed to surrender to what is, rather than what I insist that it be. My mother had what I called her Que Sera Sera attitude by which she would often say, "What will be will be." Not sure she was a fatalist but did believe some things were beshert (Yiddish for 'meant to be'.) such as certain encounters and people that come our way. My father's corollary was "You never know what tomorrow brings." It was his way of appreciating each moment and possibly a nod to his inherited worrying tendencies, as my Russian immigrant grandmother specialized in it.
I have often invoked the Serenity Prayer when life has been off-kilter and I am scratching my head, feeling quite bewildered and I am wanting to wrap my mind around the seemingly senseless.
God grant me the serenity
to accept the things I cannot change;
courage to change the things I can;
and wisdom to know the difference.
and yet there are times when I want to change the things I cannot accept. I'm sure you know that feeling. I can't possibly be the only control freak in these parts.
Today, when I happened to be pondering the state of the world, my friend Colman Byrne was attempting to be of encouragement and help me to view things through different lenses. Shortly afterward, on a totally unrelated topic, I had asked on my Facebook page for folks to share the title of the movie they would want to be aired about their lives. His film title was 'It'll Be Alright On the Night". I had no clue what that meant, so he elaborated.
"It's a phrase we used to use during rehearsals for pantomimes back in the day in Ireland when nothing seemed to be coming together. Just keep muddling through life, doing the best you can and magic will eventually happen (along with the odd disaster when it didn't, but that makes for great stories afterward)"
Since I am all about magic and seeing things work out for the Highest Good, I smiled when I read his words. They were a reminder of the iconic line by Julian of Norwich, "All shall be well, and all shall be well, and all manner of thing shall be well."
Another friend named Reid Mihalko, who created a workshop for which I am a certified facilitator, called Cuddle Party, used to utter this comforting message to me back in 2005 when I first started teaching, "Darlin', the event will go as the event will go." I had only to prepare as best I could and then (gulp) surrender to whatever the outcome was. Not easy for this overachieving Type A workaholic. After much resistance, I did eventually let go and wonder of wonders, it did turn out well, sometimes better than expected.
Learning to trust and do what I think of as the Nestea Plunge and I fall backward into the waiting 'arms' of Spirit. Truth is, I have never been dropped and always uplifted.