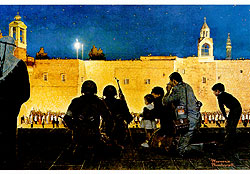 I subscribe to the skies
Even when clouds roll in
I simply wait patiently,
For the skies to clear again,
I trust in the warmth of the sun
Even on a cold winter's day
I know the chill can't last,
It will finally go away.
I believe in replenishing rains
Though I happen to live in a desert
I've visited an oasis
Living waters make a convert.
I've watched the tides of oceans
They ebb and then they flow,
Just like the passing seasons
And floods that come and go.
I once saw a rainbow
A sign across the sky
Its many beautiful colors
Suggested an artist's eye.
I've seen a comet streaking
Occasionally across the night

The rarity of the occurrence
Made me wonder if all was alright.

I believe in the constellations
Even when the sun's shining down
Just because I cannot see them
Doesn't mean they aren't around.
I believe in the power of the wind
A force I have never seen
Yet I can see its effects
What it shapes and where it has been.
I've felt the mighty thunder
And yes the earth did quake
What power could crack the earth
And make the lions shake?
I believe in the light of the moon
Even when something blots it out
I trust this too will pass
Like my occasional doubts.
I saw the Daystar's rising
On a eastern horizon afar
I saddled up my beast
And journeyed on towards the star.
I did not arrive in time
To see the new king's birth
My camel moved too slowly
Plodding across the earth.
I had some lunch with Herod
And didn't like his schemes
So I didn't return thereafter
Being warned in one of my dreams.
I brought a gift for rulers
Myrrh and frankincense
But this king lay in a manger
Which really didn't make sense.
Til I consulted the prophecy
Of a king for the least and the lost
Born in ordinary circumstances
Delivered without fanfare or cost.
The people who dwell in darkness
Required a bolt from above
Before they'd believe in light
Or the fire of heaven's love.
Lift up your eyes to the heavens
Take your gaze off the ground
How will you ever know what's up
If you're always looking down?
Our minds cannot encompass
All that's real and true
But there are many witnesses
Pointing us to You.
I should not take my viewpoint
My knowledge or limitations
As proof there's nothing more
Than what's in my location.
When I consider the works
Of the Almighty's hand
The sun, moon and stars
I ask— what is man?
And yet you have crowned us
With glory and wanderlust
So we would follow stars
Trekking across the dust.
I subscribe to the skies
And the One who made it all
And somehow I saw him wink at me
A star in manger's stall.
"Now faith is the assurance of things
hoped for
A conviction about things not seen."
January 1, 2011