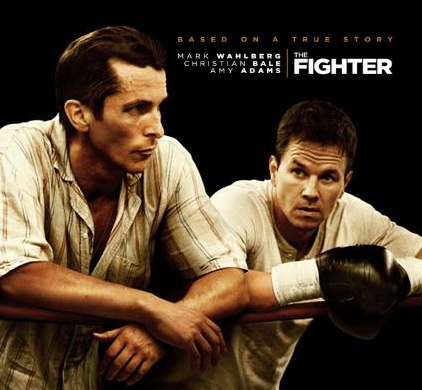 I've been to Lowell Massachusetts, the so-called birthplace of the industrial revolution in America. It makes the rust belt look like polished steel. It is hard scrabble, hard drinking, old Irish Catholic territory. And Mark Wahlberg knows something about this world, as he's from Massachusetts, and like the fighter in the movie, has come a long way from his Marky Mark days until now, when he is a fine actor in an Oscar worthy film. 'The Fighter' is a painfully honest take on a true story about two brothers trying to rise above poverty through boxing. In some ways it is as painfully honest as The Wrestler, but these boys don't have a death wish. They just want to make their living fighting, both in and outside the ring as it turns out.
In Don Miller's excellent book, A Million Miles in a Thousand Years, one of the things he stresses about good story telling is that your hero needs to overcome enormous odds to achieve his goal, if the story is going to appeal and have enough pathos. Instinctively America loves stories about the underdog that overachieves, its the Horatio Alger story all over again. The funny thing is, sometimes such stories, while the stuff of legends, are in fact true. And the story of Micky Ward and Dickey Eklund, half brothers and battlers both, is a true story.
For not quite two hours, David O. Russell weaves his magic with one of the best casts in any movie this year. Christian Bale plays Dickey, the crack addict former fighter and older brother, Mark Wahlberg the younger brother Micky, Amy Adams (remember her as a nun in Doubt and as Julie, in Julie and Julia) as Micky's girlfriend, Melissa Leo as the domineering mother Alice Ward, and Jack McGee as the weaker father, George Ward. The movie regales us with all the grit and blue collar grime of Lowell, but it does not wallow in the mud, the story keeps rising up out of it.
I am not a huge fan of boxing movies, especially of the Raging Bull ilk. Yes I loved Cinderella Man, and some of the Rocky films had some inspiration in them. But the blood and guts and slobberknocker of actual fighting scenes, I can do without. I hate seeing people beat each others brains out, in some cases quite literally.
So for me, I was glad that the emphasis was not placed on what happens in the ring, though we have the inevitable and improbable championship fight at the end of the movie of course. No, most of this movie takes place outside the ring, and it is a study a psychologist would have a field day with, if he or she chose to analyze the Ward family. The portrait of that dysfunctional family is so vivid, I doubt I will ever forget it.
Wahlberg, who does love boxing and is something of a gym rat, is superb in this film as the younger brother living in his older brother's shadow. But the real Oscar candidates in this film are Christian Bale and Melissa Leo who give mind blowing performances. When you see acting that is this blindingly good, you ask yourself– why in the world don't directors insist on this quality of work more often? Amy Adams also does a fine job of playing a more mature though quite flawed young lady in this film, compared to her previous body of work.
In some ways this film is about seizing your opportunities when they arise. In some ways this film is about dogged determinism and believing in yourself. In some ways this film is a study in broken family dynamics. In all ways this is a powerful film that has already been nominated for a bunch of awards by both the SAG and the Golden Globe folks, and rightly so. I expect the Oscar crowd to do likewise. This movie comes out fighting, and is a heavyweight contender for best picture and other awards. Who would have thought it, at Christmas time?