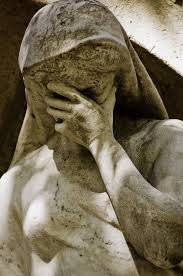 I write daily. Often it's a note to family, or a response to a friend or colleague. Sometimes revising creative work, and usually this blog. Lately, the blog has probably saved my blood pressure (normally quite low).
I write to process — I'm of the Flannery O'Connor (I write because I don't know what I think until I read what I say) and E.M. Forster (How do I know what I think until I see what I say?) school of writing. I need to mess w/ writing before I'm sure what I really think.
But I'm also of the Buddhist school of writing: I write to try to find a way through my anger, my hurt.
This crisis — this murderous collision of race and class and hate and history — in Ferguson, MO makes me heartsick. I don't use the term lightly: there is hot pain in my chest where normally I'm pretty easy. I find myself unable to move beyond a kind of setpoint of sadness. That too is unlike me.
I want to know how a lovely young man — a former student — can say he has seen NOTHING on the news about Ferguson, or about Michael Brown's death, or about the city's dependence on riot police instead of conversation among leaders. Where is the national outrage??
I want to know where the small town of Ferguson got the idea that you can do the following: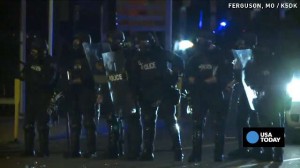 impose a no-fly zone and virtual martial law;
(illegally) require reporters to stop videoing events;
refuse to give officer badge numbers (which makes me wonder if the 'officers' were even wearing badges?);
teargas peaceful protesters (including MO state representative and a St. Louis alderman, surely credible sources?)
I don't get this. I don't get any of it. I don't understand why the 60s are back, alive & well in Ferguson, MO. Police in anti-combatant gear? Teargas for peaceful protesters? Intimidation and violence by police? This is a city only 6 hours from Tulsa. And far more similar than many white Tulsans would like to believe.
I'm a longtime hippie kid. Now aging, sure. But if anything, more deeply committed to peace, love, understanding. Because I've seen what happens when we let our anger, our fear, and the resultant hatred pool like blood between us.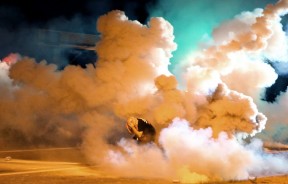 At the very least, the ugliness goes deep and festers. Until it becomes the worst. And at the worst? People die. As they have in Ferguson. What happened to Michael Brown is only the latest (and most devastating) in a tragic spiral of racial tensions in Ferguson. In a city that's almost 2/3 African American, fewer than 10% (3 out of more than 50) of the police force are black. No black leadership, either: a white mayor and an almost all-white city council. White school board.
As always, I'm left with only questions, no answers. Answers are never the easy part of the equation, I realise. But in Ferguson, it looks like they are only now beginning to even ask the right questions. And I am breathing for them — trying to write through my distanced grief, for the mother & family of Michael Brown, the citizens — both black and white. And for the spirit of poor Michael Brown, who almost certainly never wanted to be this kind of martyr.