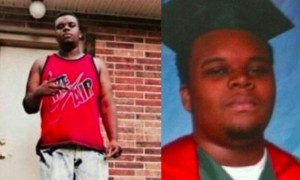 The tragic shooting of Michael Brown is only the latest in a series of such tragedies. Unlike in some cases of continued horror, I am not inured. This time, in fact, Brown's horrible death cries out for more than FB postings, more than the usual denials from law enforcement and the white-washing of the officers involved.
I would use the term murder, but I'm trying — hard — to remain open to further information, even though this looks like Trayvon Martin's murder, like Amadou Diallo's murder, like John Crawford, like the down-the-highway murder of unarmed teenager Jeremy Lake.
Like Bruce Springsteen said, you get killed just for living your American life.
There are so many devastating elements to this onslaught of murders. The way the media publishes scary, probably FB-goofy pics of the victims, instead of their graduation pictures. Instead of pictures of them w/ family. Or the total BS of 'gun rights,' for instance. Gun rights are for white people, folks. John Crawford was shot dead for holding a TOY GUN. The white gun rightists who stalk Target, decked out in automatic & semi-automatic weapons? Imagine this picture if the men were black, sporting dreads, dressed in colours: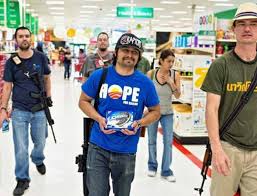 How many of THOSE men — not these — do you think would leave w/ their purchases? With their lives? John Crawford certainly didn't. Buying a TOY gun. WalMart 'defends' its actions by saying he brandished the gun, and didn't throw it down when asked. A toy gun, remember.
Whereas, Peter Steinmetz entered an AIRPORT — not to meet a passenger, or fly, just 'to buy a cup of coffee' — and scared the daylights out of a woman and her daughter, pointing a gun at them (negligently, he claims, not intentionally — as if the woman & her daughter would know the difference??) and was arrested. Only arrested, courteously, I assume.
Did I mention that Steinmetz is white? And that when questioned, he said he was making a political point? Apparently, that won't get you killed. But buying a toy gun, or walking home unarmed from the convenience store, or catching the subway, or dating a white girl … will.
Jeremy Lake was unarmed, broad daylight, when his girlfriend's father shot him. Apparently for … being black? And did I mention that the murderer (yes, I'm calling a man who shoots an unarmed man in broad daylight, w/out provocation, a murderer) is a police officer? And that his wife (also a police officer) helped him get away and hide until he finally turned himself in?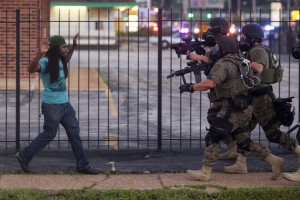 As I write this, news comes of yet another unarmed black man — Ezell Ford — and his fatal shooting by Los Angeles police comes across the wire. Mentally handicapped, 25-year-old Ford was laying on his stomach on the ground, subdued, when he was shot in the back. Murdered by a representative of American law.
I don't get it, America. What has happened to the police my father was so proud to associate with? The police my beloved nephew is proud to wear the state badge of? Where is the outcry of other officers? Because let me tell you: these are NOT isolated incidents. And if we don't cry out in rage at this abuse of power, we are complicit.
And it seems to me it's getting worse, as courts across the country appear to collude w/ white shooters, offering no punishment for the loss of a life, a son, a father.
I have no answers, obviously. Only this howl of a cry: what is wrong with us? What are we so afraid of?? And most of all, to the families of these tragically murdered young men: I'm sorry. I'm so very sorry. I'm just so very very sorry…