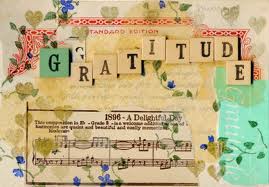 Right now on FB, my youngest sister has tagged the three of us other sisters to do the 'gratitude challenge.' In which for five days, you have to come up w/ three things a day for which you're grateful.
Just three, I said? Because I started a gratitude journal years ago, so I've been practicing. And as I noted elsewhere, it becomes the best of habits.
Today, because FB is a large audience, I wanted to hit the basics fast: my husband, my sons & grandson, my 'daughters' — the DIL and nieces I have on lend from their wonderful mothers. But most days, what goes in to my gratitude journal is everyday life. I'm grateful for the woodpeckers on the seed & suet feeders, the hummers on theirs. I'm grateful for a day w/ cooler than normal temps. And there's always when I cook, or if we go out to eat — I'm always grateful for good food!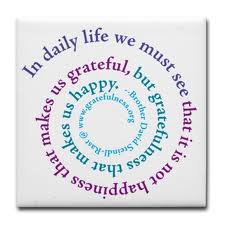 Thinking about gratitude is a humbling exercise, if you do it both seriously & frequently. I'm grateful at night for soft sheets on a comfortable bed, in a safe house w/ air conditioning in the summer and heat in the winter. One cold winter night only a few years ago, a homeless man froze to death only 6 blocks from my house. Believe me, I thought about my comforts that entire week… And still do.
I'm grateful for a life that enabled me to write when I was laid off quickly from my job. That's a privilege most people will never know, and I really get that.
I'm grateful, too, for (as the Mary Chapin Carpenter song goes), Pens that won't run out of ink/ And cool quiet and time to think. Not to mention a Moleskine to put it all in.
Just looking at my daily life — my cute little car, my desk, my books & my pans to cook in & my cell phone & all these many many 1st world pleasures — I'm grateful.
I'm not saying this to be a total Pollyanna. I'm trying to remind us all that many of our everyday pleasures & privileges we take for granted. And that's too bad, because often? Just everyday life is enough. Really.