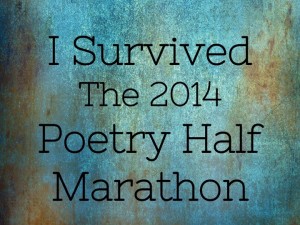 We did it! Those of us who signed up for the half-marathon (and those who were insane enough to go 24 hours w/out sleep for the whole nine yards!) did it!
As one of the participants noted, what kind of crazy people would spend a day sweating over poetry w/ strangers? Weeelll… Poets would. And did.
The thing about doing something so thoroughly non-remunerative (we made no $$; it won't look impressive on a resumé; it's not prestigious — yet!; etc.) is that it reminds you what you love.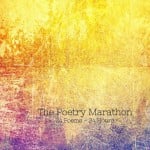 Sometimes I need to remember that. I need to get back in touch w/what is so important to me — and/or so much fun — that I need nothing more than the joy & challenge of doing it. Because, well, life and chores and 'responsibilities' sneak up on me. And suddenly I'm on the phone all day with people I love, but who may be more needing than rewarding.
'Reward' is a funny concept. I spent TWELVE HOURS yesterday writing often fairly mediocre poetry. And 'publishing' it to group of strangers. Who will be able to TELL it's mediocre. And the only reasons I can give you are this: I wanted to see if I could do it. And it was (all whining aside) hugely 'rewarding.'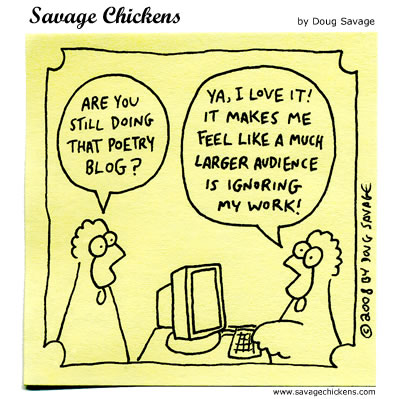 So I realise that would NOT be true for most folks I know. But it's true for me, and the 100 or so other folks who challenged ourselves to write/ compose/ plan/ dream/ eat & sleep & breathe poetry for 12 or 24 hours.
See that badge uppa top of the page? That's my 'reward.' Oh — and 12 poems. Each of which, because I kept my word to myself, is a winner. And that kind of love feeds my beginner's heart all to pieces.