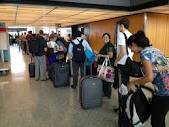 It all starts w/check-in. That's the beginning of any air travel, right? But wait! For us, it began with ice all over the car. A LOT of ice. And an AWOL ice scraper. We should have known it was a portent…
And there was fog. But that's not unusual in Blacksburg. It's in the mountains, and often there's lovely, luminous fog in the morning. I never thought farther than 'how pretty!' Like my grandmother used to tell me: pretty is NOT enough.
Next a drive through the fog to the airport, in nearby Roanoke. After we arrived at the airport, and I said farewell to my wonderful elder son, and the two weeks I'd just spent w/ my lovely daughter-in-law and amazing grandson, I was at check-in. Nothing different, just a long line. I've been standing in check-in lines since I was 8 years old.
Then a hike through TSA, and a short walk to one of the airport's four gates. Did I mention it's a small airport? That's when the fun began. No flights had landed. Not all morning. This is not a good sign… Fog socks in the airport, situated as it is in the New River Valley. And the waiting commenced…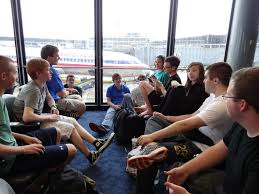 Through most of Tuesday, I checked delay updates, listened for good news (spoiler: there wasn't any), and made friends with my fellow travelers. There's a warm camaraderie among folks stranded at an airport. Folks watch your bags (you really can't go an entire day w/out making friends!). They share stories. After all, we're all on our way home for Thanksgiving, right?
Airport and airline personnel were great. Snacks appeared, bottles of water, and professional courtesy carried the day. And a long day it was.
Still, I made friends w/ pilot guy, who kept us all informed about visibility ceilings, and landing approaches, while his wife Rosalie told me about their grandchildren (the age of my sons), and their Thanksgiving plans. The nice Red Cross worker who decided to drive to Greensboro offered me a seat, as she knew I had a boatload of family coming to feast on Thanksgiving.
But by Tuesday afternoon, when I should have been deplaning in Tulsa, I was walking through freezing rain to the shuttle back to Blacksburg. A shuttle I missed… 🙁 And Tuesday evening, when I should have been rolling out pie crusts for Thanksgiving pie, I was tucked into bed, back at my son & DIL's, by 8 p.m. OUT by 8:30. 🙂 Hoping I'd get out the next morning, to make it back to Tulsa in time to cook turkey for 12.
To make a long story short? I did. And home has rarely looked better. Dorothy was right: there's no place like home. Especially when you're giving thanks. 🙂
~ to be continued ~