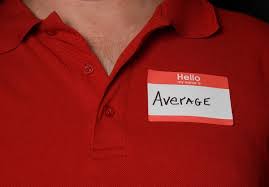 A friend & former colleague recently posted a blog entry where he wrestled with his (mild) obsession w/ being 'the best.' He's very good at anything he turns his hand to: technology, teaching, parenting, music, running. And those are just the few things I've seen him do!
But that's not what he thinks. If he's not the best, he confesses — and the focus of the blog post was his drop in running time following an injury — he's not happy.
So here's my question: do you know ANYONE who's really 'average'…? Who is totally ordinary? Right smack dab in the middle of the bell curve on EVERYTHING? I don't.
I don't think any one really IS 'average.' Each of us is unique. I suppose we know that, intellectually. But when we fit whatever stat is trending, it can be hard to remember.
My friend Luke is nowhere near 'average.' He's amazing, if he could just see himself from an objective 'outside' perspective. A parent who adores his kids, a co-worker who is generous with time & ideas, a writer of no small talent. And funny as hell, to boot. How average is THAT?
And what the heck is WRONG with being 'average' anyway? What does that word even MEAN? It seems to be another word for 'ordinary.' But even ordinary — I'm thinking ordinary magic, or ordinary mind — is beautiful. So, does 'average' now mean 'not special'…? When did that happen? I reject that meaning!

Days when the ordinary leaps out & surprises me are my favourites: when I look up at the grey winter sky and the clouds are swirling furiously, or when a fox steps free from the woods by the house, or my grand-nephew says something absolutely hilarious… These aren't epiphanies. They're just ordinary days, when something quite common, really, is framed by my attention. Something not defined as 'special' becomes so, because I'm deep within that moment. Not judging — just enjoying.
Here's my wish for each of us (myself included): that we might just a few times this year — heck, I'd be happy if it was simply annual! — see ourselves as our friends do. See our idiosyncratic, uniquely loveable gifts through the eyes of someone who isn't judging us, but enjoying us. Instead of filtered through the always-critical lens of self-'improvement.' (Which might just as well be called 'never satisfied.')
Because I know if Luke could see himself as I do, HE would know he's not simply 'average.' He's the best kind of special. One irreplaceable human being, living his life to the best of his ability.