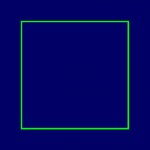 I have three sisters. People who know all of us well — a small number (we tend to overwhelm in large doses!) would say we're not much alike. We would agree. But we also can give you countless examples of a perfect stranger asking one or the other of us, "Are you Diane's sister?" or "You must be Dori's sister!" And yet we differ in height, hair colour, complexions, religious beliefs — in most ways you would 'recognise' similarities.
So two of my sisters have been spending more time together lately, and apparently one said to the other: We're really not much alike. The other agreed/ disagreed. Her marvelous take on it is that we're four sides of the same square.
Okay, you KNOW how I love metaphors! And this one, to me, is particularly apt. There is this lovely common ground that connects us –Việt Nam (we are all Third Culture kids), moving, summers on an island, alot of moves… Far more has shaped the centre of that square than the differences of the four sides. 🙂
We think of ourselves in stairsteps: the 1st sister (me); the 2nd sister — my retired Army sgt sister; the 3rd sister, who was in the National Guard and has done retail for years; my 4th sister, who has worked at a university for years. One of us has three children. One has none. Two are divorced, one separated, while I'm happily married for a zillion years.
Some folks would see these as differences. We often do. But when we talk of my parents — all of us still call my father Daddy, and my mother is often still Mommy — or exchange conflicting tales of our this family story or that, it is that common ground that trumps.
What if each of us saw ourselves as part of some infinite-numbered, equal-side polygon? Something so multi-sided that we resembled a circle, to all intents? What if we focused on the common ground in the middle, that which joins us, rather than the tiny segment that represents us…?
I know — it's another darn metaphor. But this one is NOT my fault, and it's a good one! 🙂