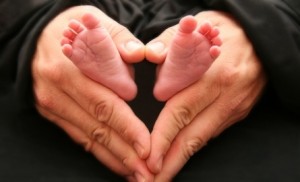 If there was a job loving babies, I'd be the BOSS. Because here's the secret to babies: you can love them as much as you want to. They won't feel smothered, threatened, controlled, or weird in any way. They will look up at you, and grin.
How great is that?
Yesterday, my entire job was to love the baby. As my husband, son, and DIL supervised movers/ shopped for cleaning supplies/ unpacked boxes/ generally WORKED HARD, I sat on a sofa, with a perfect baby in my arms, and loved the baby.
That was my whole job. All day! For which, I must say with all due amazement, I received ACCOLADES & THANKS! "Thanks, Britt, for holding the [perfect, amazing, totally easy] baby." And "Mom, thank you so much [for sitting on the couch, watching the baby breathe, and marveling at his every movement].]
I am so NAILING this job!
Once, when the world was very dark for me, and I couldn't imagine how I would ever be good at anything, I thought: there should be a job loving. I could do that. I love many things, and many people. Not quickly, but easily. And with great fervour. I'm an enthusiastic hugger, a touchy-feely patter of arms, the kind of person who refuses to be proper and sit still when there's a dog, or cat, or child, or baby to play with. I'm just hard-wired like that.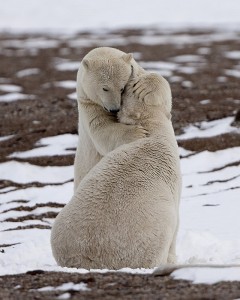 It is, probably, why I'm so happy being a Buddhist. The Dalai Lama is — of course! — quite right: religion should make you happy. And mine (like his) is love. Sometimes evinced in a piece of art — a poem, a handmade journal, tea with homemade ginger scones. Because making is also love.
Babies are work. But not work lovers of babies mind. Even diapers (really). What's difficult about helping a helpless baby get clean? And burping? A tiny downy head, nestled into your shoulder…wow. This I'm good at.
I used to tell my student I loved them. They would laugh, but later tell me (alone — in the safe privacy of my office) that no teacher had ever said that. But it's true: I did love them. Still do, the ones I'm in contact with. I write them letters of recommendation with pride: they're blossoming into such incredible people.
Babies are like that, but on steroids (despite the tiny package!). They're built for loving. Incite it/ ignite it/ inspire it. 🙂
I want to learn from this moment, this NOW, how to love the world this way. All of it. The mean drivers in Tennessee (sorry, you Tennnesseans, but the folks on I40 are DANGEROUS); the people who left Hilde the German Shepherd to die; even just the cranky folks in front of me in line who are rude to the over-worked cashier.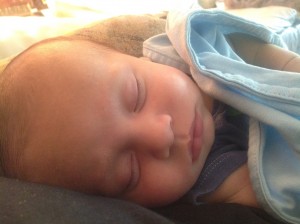 When my grandson cries, I can't always fix what's wrong. Sometimes, he just wants Mom or Dad. And that's okay. I hold him, try to breathe for him, and remind him he's surrounded by love. I have no clue how to do that w/ the reckless driver in the giant multi-wheeler who darn near ran us off the road in the rain. All I can do is shake my head, right now (well, that's all I SHOULD do!).
Instead, I'll try to remember is that everyone was, once, someone's beloved grandson. Even the previous tenant, who left my son & DIL a totally disgusting washing machine, was once a beautiful baby. So when I meet the next unloveable grownups in my day-to-day life, I can bring these job skills to our encounters. I can think of today, sitting on a sofa with a perfect baby. And I am going to love the beautiful babies they once were.
Who knows? It may work!