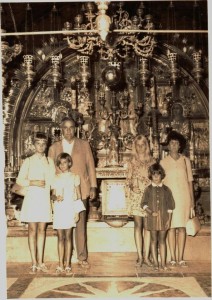 To paraphrase one of my favourite authors (Tom Robbins), "It's never too late to have a normal childhood." And I just realised — really! — that I did.
When I was little, reading stories of normal American children, they lived in small American towns. They went to the beach for the summer — a month at a time! — and they took family vacations. I desperately wanted to be a 'normal' American child. Living overseas, wearing clothes a tailor made, I combed the pages of catalogs and magazines to see what 'regular' kids wore.
I wanted a lunch box, not a military bus that took us home for lunch. I coveted a book bag with a ruled tablet and thick pencils, not blue cahier notebooks with fine-point fountain pens. And I would have traded one of my sisters (well, at least for the summer) for a 'real' family vacation.
Just this week, driving on the highway to Virginia w/ my husband, I realised: place is the key to the differences. Because I had most of those things! It's just that our summers at the beach — and the long LandRover trips to them — were in southern Thailand, down to a small island now famous from the tsunami: Phuket. We spent long, often boring months of our summer — and sometimes Christmas breaks, as well — downcountry. Days at the beach, when my father came with us, he hacked off pieces of watermelon with the machete he carried on his trips through the jungles of Thailand.

Our 'family vacations' were a train trip over Thanksgiving week down the coast of Thailand, to Singapore. We ate fried rice and Spam instead of turkey.
But as a child, I saw no similarities to anyone else's childhood. Ours, it was obvious, was a totally weird (and thus inferior) family. We were sooo not 'normal.' Sigh… Our Sunday drives were on the Biên Hòa highway. One year there were no Christmas trees, so my mother hung a fishnet upside down, and strung it with lights & ornaments. When I was 16, the tailor copied a Rudi Gerneich dress for me to wear to prom with my boyfriend.
Many years later, watching the green Smoky Mountain foothills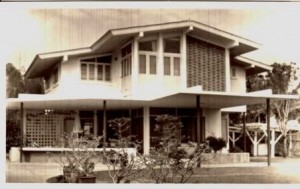 glide by, I can still see the darker, richer greens of Thaiiland from a window. As we stop to stretch our legs, I remember four laughing girls piling out of a battered LandRover, and my mother herding us in to a NOT European toilet. Or better yet, forming a make-shift outhouse: four corners of a large blanket held in a square around a fifth girl, in the (private) middle. And as the woman at the state line rest stop chats with me, I can hear the lyric cadence of Thai in my history.
There are elephants in my childhood, and a friend of my father's who rescued a small lion cub and drove with it in his convertible. Once he let me ride beside it.
What's 'normal,' anyway? And why do we pursue it so diligently, that chimera of routine and cultural expectations…? Who ever said "Oh wow! I l met the most normal person!" Since when is that a recommendation? 🙂 My best friends are extraordinary: talented, witty, kind and gentle and beyond average in all ways. (And isn't 'normal' another word for 'average'…?)
So no, I didn't have a Sally, Dick, & Jane childhood. Unless you leave out the places it happened. And then? It was the happiest of normal childhoods.