Starting on Saturday, August 29th we'll be experiencing one of the six major 'supermoons' of the year, a time when the moon is especially close to the Earth and the full moon effects are particularly strong.
This month's supermoon will be in Pisces, making this an especially powerful time for art and creativity. If there are any projects involving art or self-expression that you've been putting off, *now* is the time to start them!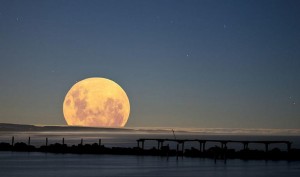 This is also a particularly powerful time for empathy, and connecting not just with your own inner world, but with the inner worlds of other people. Sensitivity will be especially high, so be wary of people acting particularly thin-skinned, but trust your hunches about what it is that may be bothering them.
Also, play particularly close attention to your dreams over the weekend and early into next week, this is about as strong as the connection between your conscious and subconscious minds is going to get, and as such your dreams may be particularly strong and insightful.
Because the sun will be in Virgo, there will be a push and pull between inner ego needs from Virgo, and inner emotional needs from Pisces. The placement of the planets—Jupiter and Neptune in particular—will magnify this. There may be a lot of interest in talking about deeper emotional topics, but if you find the conversations getting overly analytical or critical, it's time to change the subject!
Above all else, this is a great time for introspection. This is going to be one of the best times of the year to ask yourself what you really want, and what you really want to release. Take the time to look inside, and pay close attention to what you find. And above all else, don't ignore or dismiss your own emotions; if you don't respect your feelings, you can't really expect anyone else to, either.
One word of warning, though: For those who consider themselves to already be sensitive and/or empathic, this boost in energy might prove to be a bit overwhelming, leading them to find ways to self-medicate; so if you, or anyone you know falls into this category, be careful out there.
Luckily enough, if anyone you know is going into overwhelm, chances are very high that you'll be able to sense it, too.
What do you think? Feel free to comment down below!
You are great, and I love you!
And if you love me back, click 'share' up at the top!
B. Dave Walters Writer, Life Coach, and Talk Radio Host
Find out more about me: http://about.me/BDaveWalters
Ask me anything: http://formspring.me/BDaveWalters
Become a supporter of my work: http://www.patreon.com/bdavewalters
Pages I support:
Jesus and Buddha — Interfaith dialog
Gnostic Theism — Religion and Spirituality for the 21st Century (Join the Movement!)
Love One Another — A group for the coolest Spiritual people on the Internet!