This Sunday night at 10:11 PM EST / 2:11 AM GMT there will be quite a sight visible in the night sky: The largest full, or 'supermoon' of the year, combined with a total lunar eclipse. Full moons are always powerful and supermoons are especially so; adding in the energy of the eclipse is going to create a high-energy time that will be affecting us all for months to come.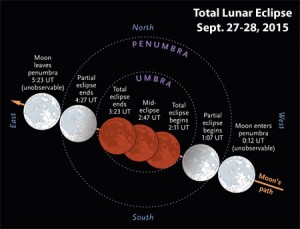 The physical reality of what's happening is first, this will be a total lunar eclipse, which means the Earth will be between the Sun and the Moon, casting its shadow over it. Second, the Moon is going to get as close to the Earth as it gets in its orbit this year, creating an unusually large and bright full Moon. Third, as the first full Moon after the Equinox, this is also known as the 'Harvest Moon', which traditionally heralded that it was time to bring the crops in.
Now, before we discuss the energetic reality of what's happening, two points: First, this is just the flow of energy that's going on around us right now; think of it more like a weather report than anything set in stone. And second, the flow of energy doesn't come on or off like a light switch; the flow will begin tonight, but will affects for days, weeks, and possibly even months to come.
Eclipses always mark times of transition; endings, and new beginnings. This doesn't have to be a particularly painful time, unless we are holding on too tightly to things that are better off being released. If you feel tears coming up during this time, don't fight it; just let go and release whatever is coming up. Once again, the pain can only come from holding on too tightly when you need to let go!
Most of what's going on right now is in the area of relationships, and the resolution of events that were set in motion months ago. The supermoon eclipse is going to happen in Aries, the sign of forceful, direct, and aggressive action. The Sun, however, will be in peaceful Libra, which is concerned with peace, harmony, and balance above all else. As you can imagine, this might create times that feel like having our foot on the gas and the brake at the same time, and the key will be to balance inner drive with outer peace and calm.
The interactions of the other planets are going to be pumping more energy into our relationships, specifically redefining our connections to other people and our boundaries. This is an excellent time to say all the things that you both know, but no one is saying. This is a great time to begin new relationship, or begin the process of moving on from ones that have run their course.
And don't forget, our old friend Mercury is still retrograde, negatively impacting communication, especially in the area of relationships, so don't be too hard on anyone who gets flustered easily or has trouble explaining how they really feel, or what they really mean.
The best thing you can do during this time is to take action of some sort; anything you know you 'should' be doing but haven't, start it now. And above all else, don't just talk: DO something!
No matter what, if you have the opportunity to get outside to see the eclipse, be sure to do it; this exact combination won't happen again until the year 2033!
What do you think? Feel free to comment down below!
You are great, and I love you!
And if you love me back, click 'share' up at the top!
B. Dave Walters Writer, Life Coach, and Talk Radio Host
Find out more about me: http://about.me/BDaveWalters
Ask me anything: http://formspring.me/BDaveWalters
Become a supporter of my work: http://www.patreon.com/bdavewalters
Pages I support:
Jesus and Buddha — Interfaith dialog
Gnostic Theism — Religion and Spirituality for the 21st Century (Join the Movement!)
Love One Another — A group for the coolest Spiritual people on the Internet!