Question submitted via Formspring:
"I need advice. I've been seeing this guy for about 8 months now. We started out with a very casual relationship. We would hang out and we would have sex. That's it. It was fun at first but as time went on I started to develop feelings for him. Now I'm in love with him. I'm crazy about this man. I recently expressed my feelings for him and he was shocked. We don't have sex as often and we don't hang out as often because of our very busy schedules. I forgot to mention there's an age gap. I'm 21 he's 29. I'm frustrated because I want us to develop into something more..but there's so many obstacles in the way. The age difference isn't that big of a deal to me but it might be to him. The base of our relationship also started off as sex and I feel like making that change is going to be difficult. I don't know!! My thoughts are all scrambled!! Pleaseeee help me."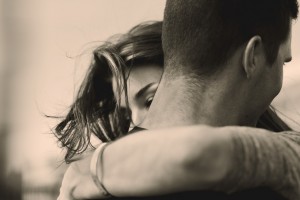 We have talked before about what to do when a man only wants you for sex. I also spoke about this question at length on a recent episode of Rise UP with B. Dave Walters, along with:
How to do the things you know you should, and stop doing the things you know you shouldn't. How to make change, lose weight, get motivated, and much, much, more! Click here to listen.
So, as always, let's break this down into pieces:
You've been together 'about 8 months'.
You started out 'casually', aka friends with benefits.
First it was just sex, but somewhere along the way you fell in love with him.
You told him, he was 'shocked' and now is 'too busy' to see you.
There's an 8-year age gap.
There are 'so many obstacles' between you two being together (?)
You understand that it's going to be hard to go from hooking up to a real relationship.
Well first: "I'm about to make a wild, extreme and severe relationship rule: the word busy is a load of crap and is most often used by assholes. The word "busy" is the relationship Weapon of Mass Destruction. It seems like a good excuse, but in fact in every silo you uncover, all you're going to find is a man who didn't care enough to call. Remember men are never to busy to get what they want."― Greg Behrendt, He's Just Not That Into You
I've got some bad news for you: The chances of this working out are slim to none.
I know that isn't what you want to hear, but I say it for several reasons. First and foremost, when you told him how you felt, he started withdrawing. And no, he isn't 'busy'; he was just as busy when he had plenty of time to hook up. If he is claiming he has no time for you now…see the above quote.
Most importantly, the key to a successful relationship is two people being on the same page: If you're both just having sex, it can work; just dating, or madly in love; all can work. But if you are after two different things, you're in for trouble. As someone once said to me, "be careful you're not making love with someone who's just having sex."
So understanding that he's now had every chance to form an emotional connection with you and has chosen not to, that should tell you everything you need to know.
I went into much greater detail about this, and what you should do next in the radio show recording I linked above; give it a listen and it will help you a lot.
What do you think? Feel free to comment down below!
You are great, and I love you!
And if you love me back, click 'share' up at the top!
B. Dave Walters Writer, Life Coach, and Talk Radio Host
Find out more about me: http://about.me/BDaveWalters
Ask me anything: http://formspring.me/BDaveWalters
Become a supporter of my work: http://www.patreon.com/bdavewalters
Pages I support:
Jesus and Buddha — Interfaith dialog
Gnostic Theism — Religion and Spirituality for the 21st Century (Join the Movement!)
Love One Another — A group for the coolest Spiritual people on the Internet!