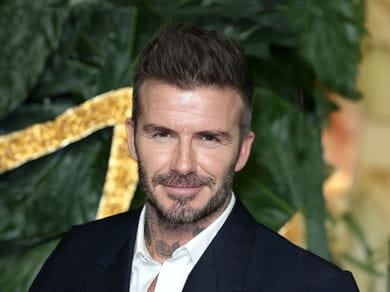 Fred Duval / Shutterstock.com
Faith:

Christian

Career:

Athlete

Birthday:

May 02, 1975

Fun Fact:

In 2012, David Beckham debuted a Jesus tattoo based on a picture by the Catholic artist Matthew R. Brooks, which is entitled "The Man of Sorrows," referring to an Old Testament text.
David Beckham is a former English professional soccer player. Known for his range of passing, crossing ability, and bending free-kicks as a right winger, Beckham has been hailed as one of the greatest and most recognizable midfielders of his generation. He gained international fame not only for his on-field play but for his highly publicized personal life as well.
David Beckham's passion for soccer began at a young age. Born on May 2, 1975, in London, England, Beckham grew up in a working-class family. His father was a kitchen fitter and his mother worked as a hairdresser. From a young age, Beckham displayed a natural talent and love for the game. He would spend hours practicing in his backyard, honing his skills and perfecting his free kicks.
Beckham's dedication to soccer led him to join the youth team of his local club, Ridgeway Rovers, at the age of seven. It was here that his talent was noticed, and he soon caught the attention of scouts from some of the biggest clubs in England.
At the age of 16, Beckham signed a professional contract with Manchester United, one of the most successful clubs in English football. This marked the beginning of his outstanding career in the sport.
From the moment he signed his professional contract with Manchester United at the age of 16, Beckham's talent and dedication were evident. He quickly made a name for himself as one of the most skilled and versatile players in the game.
Beckham's ability to bend the ball with his free kicks became legendary, earning him a reputation as one of the best dead-ball specialists in the world. His pinpoint accuracy and technique allowed him to score crucial goals and provide numerous assists throughout his career.
Not only was Beckham successful at the club level, but he also achieved great things while representing his country, England. He made 115 appearances for the national team and served as the captain for six years. His leadership and presence on the field were invaluable, and he played a pivotal role in England's success in major tournaments.
Beckham's career took him to some of the biggest clubs in the world, including Real Madrid, LA Galaxy, and Paris Saint-Germain. He retired aged 38 in May 2013 after a 20-year career, which he ended at Paris Saint Germain.
In 2018, Beckham established his own Major League Soccer club in the US, Inter Miami, which he owns alongside Jorge and José Mas, leaders of telecommunications and construction company MasTec. In 2023, Lionel Messi signed for the club, transforming it from an unremarkable low-ranking team to a competitive outfit, which claimed the first trophy in its history thanks to his efforts.
Beckham also serves as soccer ambassador for Qatar.
David Beckham's marriage to Victoria, former Spice Girls member and successful fashion designer, has been one of the most high-profile and enduring celebrity unions. The couple, often referred to as "Posh and Becks," tied the knot in 1999 and have since become an iconic power couple.
The Beckhams have four children: Brooklyn, Romeo, Cruz, and Harper. Family is at the core of their existence, and they are often seen together at events and supporting each other's endeavors.In interviews and social media posts, David Beckham often expresses his pride and love for his family. He frequently shares heartfelt moments with his children and expresses gratitude for his wife's unwavering support throughout his career.
Is David Beckham Religious?
While Beckham has not openly spoken about his religious beliefs in great detail, it is known that he holds a strong connection to Christianity. Beckham has been seen attending church services with his wife and children, showcasing the importance of spirituality in their lives. David Beckham's maternal grandfather, Joseph West, was Jewish, and the soccer star has always identified in some way with those roots. Speaking to broadcaster Kirsty Young, he said: " I was never brought up Jewish, but like I said, my grandfather was, and every time we went to synagogue I was a part of that." Although Beckham has ancestral roots in Judaism, it appears he was raised in a Christian household.
In 2012, Beckham debuted a Jesus tattoo. According to the Toronto Star, the body art was based on a picture by the Catholic artist Matthew R. Brooks, which is entitled "The Man of Sorrows," referring to an Old Testament text. He and his wife Victoria also celebrated their two youngest children, Harper and Cruz, by performing a Christian baptism.
Back to the Celebrity Faith Database