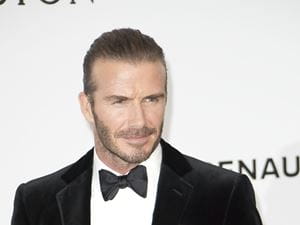 BAKOUNINE/Shutterstock.com
As the documentary premiered on Netflix, several stand-out moments emerged, including Victoria and David Beckham breaking their silence on allegations that David had an affair with his former personal assistant and a funny moment of Victoria trying to convince the audience that she came from a working-class background. With the documentary continuing to draw viewers worldwide, here are some of the most significant revelations from Netflix's "Beckham."
Beckham's 1998 World Cup red card made him "clinically depressed."
During the 1998 World Cup in France, Beckham's reputation as England's golden child took a turn for the worst when he kicked the back of Argentina captain Diego Simeone's leg. In the documentary, Beckham shared that the hate he received after the controversial red card caused him to become "clinically depressed." He said what he endured was so extreme, and the whole country hated him. He added that the moment changed his life, saying he felt alone and vulnerable.
According to Beckham, he was abused every day no matter where he went, saying it took a toll on him that he never acknowledged until now. He said people would give him dirty looks, spit at him, and say nasty things to him, which he said was difficult. Victoria added that the bullying he received was on "another level."
Victoria told David she was pregnant the night before the World Cup.
In "Beckham," Victoria shared that she told David the night before his infamous red card moment in 1998 that she was pregnant with their first son, Brooklyn. She called to tell him while she was in Brooklyn, New York, hence his name. Victoria told the cameras that David was so happy when she told him, and the idea of withholding her news until after the game didn't cross her mind. She said a pregnancy was what the couple wanted, and they couldn't have been happier.
Victoria wasn't impressed by England manager Glen Hoddle.
David's mother, Sandra, and Victoria Beckham suggested that Glen Hoddle had fueled anger towards David after the Argentina game. In the docuseries, Victoria said Hoddle didn't try to protect a 23-year-old Beckham, adding that you're a kid at 23. She added that Hoddle was an older person and should've protected Beckham. David admitted that Victoria and his then-Manchester United manager, Sir Alex Ferguson, were instrumental in helping him get through the year after the red card. He called it an emotionally draining season, adding that he wouldn't have gotten through it if he wasn't on a team like Manchester United. However, he credited Victoria as the most significant reason he got through that time.
The Beckhams break their silence on affair allegations.
Victoria and David Beckham also broke their silence on how challenging it was when allegations arose that David had an affair with his former personal assistant, Rebecca Loos. The couple have consistently denied the rumors. In a discussion in the docuseries, Victoria described it as a challenging period for the couple because it felt like the world was against them. She said until that point when the family had to move to Madrid, it was always them against everyone else, but during that time, they were against each other.
She added that while they were in Spain, it didn't feel like they had each other, and it was sad, saying that she couldn't begin to describe how hard it was and how it affected her. David also remembered when the allegations were made, saying every time they woke up, it felt like there was something else, and they both felt like they were drowning at the time.
Leonardo DiCaprio and Fisher Stevens brought the docuseries to life.
The docuseries was directed by Academy Award winner Fisher Stevens, who some viewers recognize as Hugo from HBO's "Succession." In an unexpected crossover, it was Leonardo DiCaprio who got Stevens the job as the director. Stevens told The Guardian that Leonardo and David were hanging out and asked who he should get to direct the docuseries. Stevens said Leonardo recommended him for the job, adding that Daivd watched "Palmer" and "Before the Flood," which Stevens directed and saw something he liked.
Victoria Beckham claimed to be from a working-class family.
In a moment more amusing than anything else, Beckham calls out Victoria for claiming to be from a working-class family. In the docuseries, she tells the cameras that she and David came from working-class families. Then, David interrupts, telling her from behind a door to tell the cameras what car her father drove her to school in. After a quick back and forth, Victoria says that her dad drove a Rolls Royce in the 1980s.
Beckham is an avid beekeeper.
The former soccer player now tends to his colony of bees, a hobby he picked up in 2021 during pandemic lockdowns. He also bottles and sells his honey, even though his business name is still a work in progress. Beckham said it should be called Golden Bees, while his wife thinks it should be DB's Sticky Stuff. When asked about other hobbies besides beekeeping, Beckham said he likes Legos.
David Beckham takes pride in the fact that he didn't have many friends growing up because he wasn't keen on socializing. He also wasn't interested in partying or going out. As a child, his one true love was soccer, an innocent hobby that became his profession and claim to fame. Today, the star player is no longer a common sight on the pitch, but his career as a world-famous athlete remains one for the history books.
In the 1990s, he joined Manchester United and wowed his coaches, teammates and the public with his talent, becoming known for his signature skill, bending, where he kicked the ball so it would curve upwards and go into the goal. During his stellar career, Beckham won six Premier League titles, two FA Cups, and a Champions League title, among other accolades. "Beckham" is now streaming on Netflix.