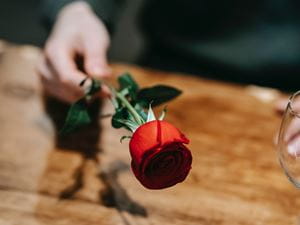 Pexels.com
For contestants on "The Bachelorette" and "The Bachelor," everything leads to the highly coveted Fantasy Suites dates. After weeks of cameras following their every move, the overnight date allows them to get to know each other privately and take things to the next level.
The Fantasy Suites have become known for their hot and heavy hookups, but some "Bachelor" stars skip sexual intercourse. Whether it's a personal preference or a decision they made out of consideration for other contestants, these "Bachelor" nation members say they kept it PG in the Fantasy Suites.
Sean Lowe
When Sean Lowe appeared on "The Bachelor" in 2013, he decided he wouldn't go all the way with any of the final three women in the Fantasy Suites. Instead, he used the time to get to know the ladies without cameras present. In his book "For the Right Reasons," Lowe wrote that he wouldn't have sex with any of the women that week. He wanted to use that night to connect with the women without distractions. He also wanted to see how they'd act once the cameras weren't rolling. Lowe proposed to his now-wife Catherine during the finale, and the pair have been together ever since.
Emily Maynard
Emily Maynard was the first Bachelorette to skip all three of her Fantasy Suite dates altogether. At the time, she decided to refrain from her overnight dates to be a good role model for her daughter. She didn't hook up with any of the suitors, but contestant Sean Lowe once implied that Emily secretly met up with the men later. Lowe told Dish Nation that Emily told him they would look like they were finishing their date but then would go hang out in the Fantasy Suite, which is what they did. According to Lowe, the two spent four hours with no cameras. Unfortunately, Emily sent Lowe home that same week, but he later discovered she did the same with the other contestants.
Trista Sutter
Trista Sutter was the first ever Bachelorette in the franchise. Almost a decade after her season ended, she indicated that she didn't have sex with any of her final contestants. On X, formerly known as Twitter, Sutter explained that the Fantasy Suites weren't all about sexual intercourse. She wrote that the Fantasy Suites weren't all about sexual fantasies, as people may think. In her mind, it was more about getting alone time without cameras. Sutter ended up getting engaged to Ryan Sutter, and the couple are still together.
Matt James
Regarding the Fantasy Suites, former Bachelor Matt James didn't hook up with any of his finalists, Michelle Young, Rachael Kirkconnell and Bri Springs. Reflecting after the show wrapped, James shared that he wanted to get to know the finalists better. He told WSJ Magazine that he thought the women appreciated it because he learned things about them that he wouldn't have learned if he hadn't used that time to dive deeper into topics they might not have been comfortable discussing on camera.
Sadie Murray
Sadie Murray was the first contestant to reveal she was a virgin in the Bachelor franchise. When she appeared on Prince Lorenzo Borghese's "The Bachelor" season in 2007, she revealed that she was saving herself for marriage. Murray made it to Lorenzo's final two and wrestled with whether she would accept a date in the Fantasy Suites. Ultimately, she decided to join Lorenzo for an overnight date, but she apparently kept her vow to stay a virgin.
For viewers, the Fantasy Suites are used for Bachelor contestants to hook up or have sexual relations. However, "The Bachelor" and "The Bachelorette" contestants use the opportunity to get to know their finalists without cameras around and delve into topics they might not share on camera. Perhaps now, the viewers will start seeing the Fantasy Suites the same way.