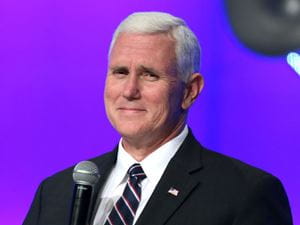 Gage Skidmore/Flickr.com
Mike Pence serves as the 48th and current vice president of the United States. Often, when you hear about Pence in the media, it's about his politics and his faith. Pence has described himself as a "principled conservative" and a supporter of the Tea Party Movement, stating that he was "a Christian, a conservative, and a Republican, in that order" according to Religion News Service. While people often talk hear about his conservative background and beliefs, there are also many things that people don't hear about the vice president, Here are five things you should know about Mike Pence's faith.
He Grew Up in an Irish Catholic Family
The New York Times reported that he is one of the most outwardly religious and socially conservative legislators, but not without breaking with two institutions that had been central to Pence's family: the Roman Catholic Church and the Democratic Party.
When Pence was a child, Pence served as an altar boy and attended a parochial school. According to the New York Times, the family idolized John F. Kennedy, the nation's first Irish-Catholic president. They were at church at least six days a week, seven if they were attending Sunday Mass.
Some have labeled Pence a 'born-again evangelical Catholic.' This is because he grew up in an Irish Catholic family and later made a 'commitment to Christ' while taking part in a nondenominational Christian student group in college. Pence later shared with The Indianapolis Star that he and his family attended Grace Evangelical Church in Indianapolis in the '90s.
He Supports Conservative Christian Values
According to Roll Call, a site that reports news of legislative and political maneuverings on Capitol Hill, Pence has a "reputation as a culture warrior (that) was unsullied." The site listed that he opposed the expansion of abortion rights and federal spending on embryonic stem cell research, pushed a constitutional amendment against same-sex marriage and briefly cut off new federal funding for planned parenthood.
In a commencement speech, Pence told the graduating class at Liberty University that they were about to enter a world where they need to be prepared to meet opposition for being Christian.
"Some of the loudest voices for tolerance today have little tolerance for traditional Christian beliefs," Pence said, reported Mother Jones, calling himself "a brother in Christ." "As you go about your daily life, be ready."
reported that during his address to Liberty, the vice president cautioned students that they'd be asked to not tolerate things that violate their faith, but to endorse them.
"Throughout most of American history, it's been pretty easy to call yourself Christian," Pence said. "It didn't even occur to people that you might be shunned or ridiculed for defending the teachings of the Bible. But things are different now."
He Has Been Attacked and Mocked For His Faith
Politicians and celebrities have mocked and attacked Pence for his faith. Representative Illhan Abdullahi Omar made a tweet mocking his faith by posting a photo of the vice president in the Oval Office with his eyes closed during a meeting between Trump and Democratic leaders about the border wall. She captioned the photo with the phrase, "Jesus take the wheel." At the time it was posted, the tweet went viral with many accusing Omar of making fun of his Christian beliefs.
Lady Gaga interrupted her set during a Las Vegas residency to go in on the vice president.
"To Mike Pence, who thinks it's acceptable that his wife works at a school that bans LGBTQ, you're wrong. You say we should not discriminate against Christianity? You're the worst representation of what it means to be a Christian."
Her comments were in reference to reports that his wife planned to resume teaching at a Christian school that openly discriminates against LGBTQ students.
His Wife Has Been Attacked For Her Faith Too
The vice president isn't the only person who has been attacked for his conservative Christian values. As previously mentioned, Lady Gaga and other celebrities have attacked his wife for accepting a part-time teaching position at a private Virginia School.
Immanuel Christian School, a private K-8 school, requires employees to agree to certain religious beliefs and standards including living a "personal life of moral purity" and also believing that marriage can only be between a man and a woman.
Immediately after accepting the position she was mocked and ridiculed for her decision, many criticizing the vice president's wife for taking on this position.
Daily Show host Trevor Noah ridiculed the Christian school's policy on sexuality and called the concept of religious freedom "crazy."
"I am not going to lie," Noah said. "I think it's crazy that if you want to discriminate against anyone in America all you have to do is say, 'Oh, it's because of my religion! I'm not discriminating!' I want to try that. I want to be like, 'No short people allowed in my shows because I want all my friends to be close to Jesus and you couldn't be further away.'"
Author and comedian Tony Posanski also attacked her beliefs and actions on Twitter, tweeting, "I pay for Karen Pence's housing. I pay for Karen Pence's security. I pay for Karen Pence's health insurance. All Americans do. So she needs to explain why it's okay to teach in a place that discriminates against the LGBT community, who are Americans that pay taxes."
While Pence has been criticized and mocked for his faith and values, he stands behind his beliefs. He may seem to work in the shadows, he is not afraid to share his faith when the time calls. Despite being ridiculed, it doesn't stop him from saying what he believes needs to be said.