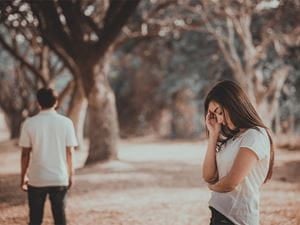 Shutterstock.com
One of the most insightful pieces of advice for newlyweds is never to start doing something you don't do for a lifetime. This advice may be given in jest, but you can see the truth in this statement as the years add on in your marriage.
Change is difficult, but once you form a behavior pattern, whether negative or positive, it can be challenging to deviate from that pattern. Women have some "go-to" ways that they struggle with and can be unhealthy for their marriages.
Still, every relationship is different. This list isn't meant to push anyone into a box; instead, it's a tool to assist with considering traps that you can fall into in your marriage. Here are some things wives should stop doing in marriages.
Putting friends over your spouse.
Everyone needs a tribe to lean on. However, there's a fine line between having your tribe and neglecting your husband to spend time with your friends. Friends can feel more fun or simpler than your spouse after years of marriage, and they don't come with the demands of married life. It can be easier to extend grace to your friends versus doing the same for your husband. We can start choosing simply over leaning into relationships that matter most in our lives.
It would be best to prioritize your marriage in your distracted life. Without consciously choosing to put each other first, your union will fall by the wayside. Be smart about the friendships you decide to cherish. Your friends should offer encouragement, helpful advice, and support. In the best-case scenario, they would be friends with your spouse. Your friend tribe should enrich your marriage and home life, not distract from it.
Being so serious.
Adulting is challenging for everyone, so wives need their spouses to bring fun back into life. Nobody wants to be serious all the time so permit yourself to be fun now and then. For some reason, men can embrace fun more quickly than women. So embrace the lightheartedness they bring to the table and stop resisting laughing at their jokes.
Life is too short to be all about work and no play. You and your spouse can enjoy the fun by playing games, planning a date night, and making time to laugh together. Enjoy being with the one you love and take a break from adulting. Taking adult breaks can strengthen your bond with your husband and help lift the tension many of us carry.
Making plans without your husband's input.
If you want your husband to be your true partner, you must start including him in your daily details. When you stop asking your husband for their input, you stop expecting to have an opinion. Most women can make decisions so quickly that their husbands defer to them when a decision is needed. Still, it's important to remember that partnership is a choice.
Leaning on each other doesn't mean you can't do something alone, but it's a choice to go into things together. Just because you can guide the ship of your home alone doesn't mean you should. When you start navigating it on your own, your marriage can crumble. By design, marriage is two lives becoming one. That unification can't happen if one life trumps the other. You have to intentionally share your decision-making processes with each other so your bond can continue to flourish and thrive.
Resisting intimacy with your husband.
There tends to be a stark contrast in the sexual needs of men and women. Typically, men want to be intimate more frequently than women. It's okay to convey that you have different needs compared to your spouse, but you mustn't always be the wet blanket in your sex life. Communicating about differing life circumstances surrounding intimacy can be helpful for you and your husband. In some life stages, elaborate and extended may be possible. On the other hand, when the kids are asleep or out of the house, you can go slow and cherish your time together.
There's value in the chances you take to connect physically. Making an effort to openly discuss what you can to get excited about your love life goes a long way. If you are typically too stressed, tired, or uninterested, you'll disregard an essential part of your marriage.
Retelling events that embarrass your husband.
It's never okay to laugh at the expense of your husband. For example, your husband may not be the best with directions, and you've gone miles out of the way due to a missed turn. After one of your unexpected detours, you may love to share how frustrated his mistake made you. While the story may feel funny and lighthearted, it can sound like you're insulting your husband's intelligence in front of others.
Embarrassing your husband isn't the message you want to send to your family and friends. Your husband is an intelligent man, and telling stories that make him seem unintelligent is harmful, and they don't give the full scope of who he is. You wouldn't like it if he made it his mission to tell stories that made you look bad to your loved ones. If you want your marriage to flourish, you have to use your words as vessels to elevate your spouse. We all want to believe we have something to bring to the table. When your stories push down your spouse, you make it difficult for them to have the confidence they need to connect with us daily.
Treating your husband like a babysitter.
If you and your husband have children, he is their father, not the part-time nanny. He should have a say in the decisions you make as parents, the kids need him, and he can take care of the kids. If you want your husband to grow as a dad, you have to give him space to pour into the children in his way. His way might include bigger messes, less handwashing, and more adventures, but your children will remember those times for a lifetime.
Some habits are more challenging to break than others. However, as a wife, you should pour into your husband instead of breaking him down at every opportunity. He'll be appreciative, and your marriage will flourish because of it.