You may date a lot of women in your lifetime, but that doesn't mean that every woman you talk to is the person you should spend the rest of your life. It is certainly not an easy decision to choose a wife in marriage. Lots of people have made the mistake of choosing wrongly and that usually ends up costing a lot. However, it is possible to form a bond with someone that is strong enough to last a lifetime. The key is recognizing whether or not the woman you're talking to is a keeper. It is also helpful to find someone who has similar visions and life goals. While each man will be attracted to a different sort of woman, there are a couple of signs that you should especially pay close attention to. Most of the characteristics you may think you want in a wife aren't ones that make for a good, lifelong relationship. If the woman you're with shows these qualities, she may be the one you should spend the rest of your life with. Here are six important things to look for in a wife.
---
She Brings Out the Best in You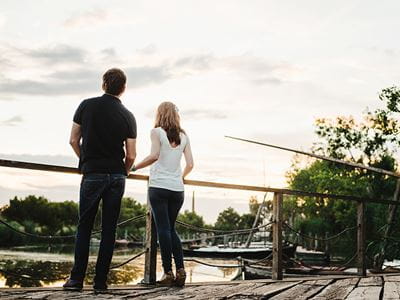 Shutterstock.com
Does the woman your with make you a better man? This is a major sign that she's all about you. Every time you're around her, the most unique parts of yourself are awakened and you feel appreciated in ways you never have before. You may have been in relationships with women that provoked your insecurities but this woman does the opposite. She reinforces your confidence. You feel like you're strongest self when she's in your corner. She is your number one cheerleader; rooting for you and making you feel like you can do no wrong, even when you make mistakes. Every day, she makes your world a little bit brighter and you want to do the same for her. She appreciates every part of you and makes you feel good about yourself. If she is committed to bringing out the best in you, you've found someone worth holding onto.
---
---
She is a People Person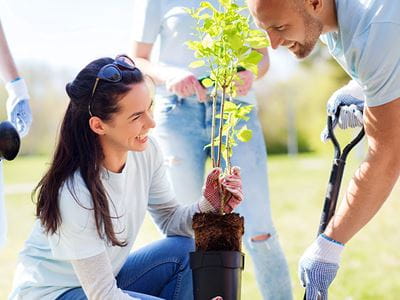 Shutterstock.com
Look for a woman who gets along with the people you're closest to, particularly your friends and family. A great woman will make an effort to get to know your people. She'll help your parents out when they're in need and really take the time to get to know your friends. If she doesn't even try to connect with your family and friends, she's probably not the woman for you. She shouldn't be critical or speculative of the people who you love and have been loyal to you throughout your life. If she is, that should raise some red flags. There might be some cases where your friends or your parents may not like your future wife or some of her characteristics, and this could require your attention. Marriage is a joining of two lives that existed prior to meeting the other person. Ultimately, she should be a good fit with the people in your life.
---
She Makes You Better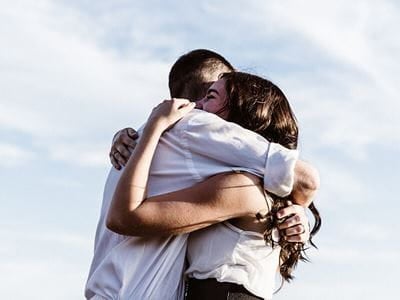 Unsplash
Look for a woman who makes you a better man. Any man who has a great girlfriend or wife will tell you that she elevates his life by making him better. She doesn't have to say or do anything, it just is the way. If every day feels like you're in prison that should be a major red flag. Your wife should elevate you to your best self. You can get a good idea from your friends and family. Do they say or act differently in a bad way when you are around her? These are not good signs. The woman you make your wife should bring out the best in you, not bring out heartache and frayed nerves. If you suddenly feel bad about how you treated your sister when you were younger or find yourself trying to get your finances in order to prepare for the future, you might want to think about your motivation for doing so. It could be love.
---
---
She Loves You Unconditionally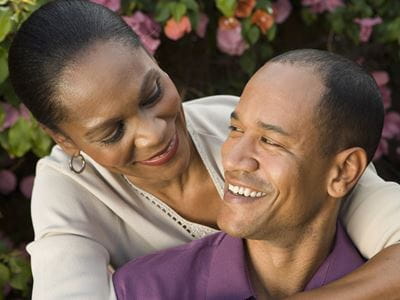 Shutterstock.com
A good wife will love you the way you are. Unconditional love is true love. It is a love that is different from the kind of love most of have known all our lives that it deserves a definition of its own. It's not the kind of love you'll experience with every person you're dating or serious about but when it does happen, it's sacred. Unconditional love is caring about the happiness of another person without any thought for what we might get for ourselves. There may be minor adjustments along the way but if she nags you about your core characteristics, it won't get any better in marriage. You deserve to be with a woman who loves you just the way you are. If she's trying to change you to be another person, it's time to move on.
---
She Shares Your Beliefs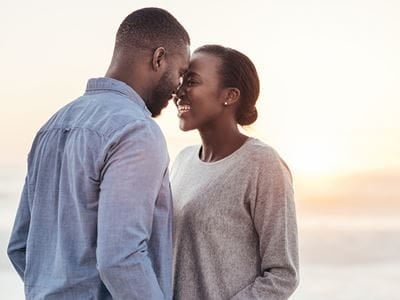 Shutterstock.com
Another incredible quality to look for in a wife is a woman who shares your beliefs. This woman shares your values and wants to live them out. The more time you spend getting to know each other, the more you realize how similar you are. You share a lot of common interests. On top of being unbelievably similar, a good wife should share the same hopes and dreams. You will be immediately inspired by each other when you share the same worldview, background and core beliefs, which allows the two of you to build a strong, loving foundation based on mutual respect. The connection is more than physical – you find yourselves connected emotionally, intellectually and spiritually. Too often, we end up in relationships with people who don't share our beliefs and values and the relationship gets derailed before it even had a chance. This is why it's so important to have similar core values.
---
---
She's Selfless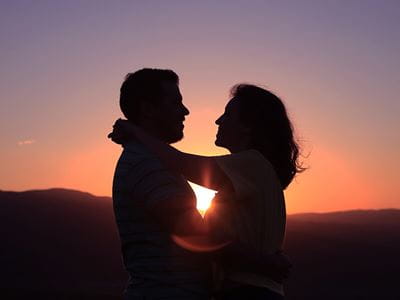 Unsplash.com
There is nothing more attractive than a selfless woman. You know you've found a good woman when she really values others. A selfless woman thinks less about herself and more about others. She's also generous and kind. She always puts other people's wishes, interests or aspirations first because she values others. Look at the way she treats her family and friends. Giving to others comes naturally to her. This includes her time and love, even to those who need help but don't ask for it. She truly finds happiness in helping out others and she doesn't do this to be admired or to seek attention. She does it purely out her consideration and admiration for others. A woman like this reflects selflessness. If she's not close with her family, and doesn't have any good friends, that's not a good sign.
---
These qualities in a woman shouldn't go unnoticed. While not every woman displays these qualities, those who do are quite special and are definitely marriage material. The woman you are with should add to your life, not take away from it. Your emotions can lead you to believe that you a need a woman that you would be much better without. Take a step back and ask yourself whether your life is better or worse with her as part of it. If the answer it would be worse, you may have a keeper.