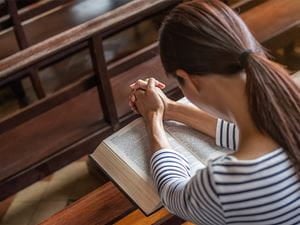 Shutterstock.com
Infertility can feel like an endless cycle of waiting – waiting for your fertile days, to take a pregnancy test, referral, appointments with specialists, tests, treatments, and then for results. Waiting can be challenging, but the two-week waiting period between every monthly cycle is the most difficult weight. It's an emotional rollercoaster where you're constantly caught in a sequence of hope and disappointment.
It can turn into a challenging space to get through for couples who deal with this month after month. How do you deal with this situation with faith while being realistic that things may not happen the way you want? How do you pray for what you want while protecting your heart?
Those dealing with infertility should consider the life of Hannah, whose story is in 1 Samuel 1. Hannah was a Hebrew woman who dealt with infertility for years before giving birth to her son Samuel, who became a prophet of the New Testament. Now note that you shouldn't compare this story to yours, and it's not a guarantee or promise of a miracle. There's no formula to faith, and it doesn't help to use God's promises to someone from the Bible and claim them as yours. However, it may be helpful to study other biblical women who battled with infertility as a way to provide you with spiritual guidance and give some advice on the best way to pray. Here are the best ways to pray through dealing with infertility.
Pray for healthy inception.
1 Samuel 1:11 says, "Lord Almighty, if you will only look on your servant's misery and remember me, and not forget your servant but give her a son." This prayer may feel like a given, but when your prayers for a healthy baby go undelivered for some time, it's easy to get disheartened and stop praying for what you want. It's tempting to stop talking to God about your infertility altogether. Maybe it's gotten too hard, or you feel like you're constantly repeating yourself. However, just because you haven't gotten what you've prayed for yet, doesn't mean you'll never get it. The Bible tells us that it's essential to be persistent with our prayers. Matthew 7:7 tells us to ask, and it shall be given, while James 5:16 tells us to pray for each other so we'll be healed.
Hannah's story is another example. The Bible doesn't share how long she'd been barren when we read about her prayer breakthrough; the passage only says that the situation went on year after year. So don't stop praying about your breakthrough and healing. When you pray, pray with an expectation that God will work miracles and that nothing is too challenging for Him.
Pour your heart out to the Lord in prayer.
1 Samuel 1:10 tells us Hannah prayed to the Lord while grieving, weeping bitterly. Is it hard to be honest with God about your fertility issues? Maybe it's easier to give God your best spiritual performance by telling Him what we think He wants to hear instead of the truth. Perhaps part of you believes your healing is based on how you weather the storm or your goodness.
However, Hannah's story reminds us that we can tell God how we genuinely feel. He can handle anything we throw at Him, like anger, disappointment, tears, doubts, and questions. He can deal with our raw feelings. He already knows how we feel. In 1 Samuel 1:12-14, Hannah is sobbing and pouring out her heart to God at the temple. Her emotional display was so big that the priest, Eli, thought she was drunk. Still, this emotional vulnerability and honesty prompts Eli to pray for her, becoming one of the main components that starts her healing. So let Hannah's case encourage you to stop holding back from God and pour your heart into Him in prayer.
Pray for your mind's peace.
One of the trickiest parts of infertility is dealing with the anxiety and stress brought on by not knowing if anything will ever change or when it'll change. It's a constant state of limbo. You question if you can make plans for next year or if you'll have a baby by then. You also ask what you'll do if you don't.
Finding a sense of peace while dealing with endless unknowns can be tricky. Still, isn't it interesting that Hannah receives His peace before God gives her an answer to her prayers? As the story goes, Eli prays for and blesses Hannah, then reassures her to put her trust in God and go in peace. Then, we learn that Hannah goes home to her husband in good spirits. We forget that we can go to God for peace of mind during the chaos and just ask for our problems to be removed. The Bible is a constant reminder that Jesus will give us calm during the storms; we don't have to wait for things to change before experiencing His peace that surpasses all understanding.
Pray for patience.
As stated before, infertility often feels like an endless cycle of waiting, which can be hard to do in a modern society that thrives on instant gratification. But if you're familiar with Hannah's story, you know that she eventually gets pregnant and gives birth to a baby boy. However, it's enticing to read the Bible and assume that answered prayers came miraculously and instantly, but that's not what this story tells us. It says that Hannah became pregnant 'in the course of time.'
This 'course of time' may have been a few days, weeks, months, or possibly years. We're unsure how long it took, so we can't say for sure. Remember that biblical women didn't have the modern convenience of pregnancy tests, ovulation sticks, or early pregnancy scans, so it may be safe to say that a significant amount of time passed between Eli's prayer and Hannah's answer. During her time of waiting, did Hannah trust God without wavering, or did she wobble with doubt? While dealing with infertility, you can't avoid waiting. However, you can ask God to teach you patience while you wait.
Dealing with infertility can be a challenging time for any couple. However, know that God is with you; He sees your struggles and will answer your prayers in His time. While you wait, try your best to remain patient and understand that your bundle of joy is on the way.