Learning to Be Still and Trust
It has been said, "Patience is a virtue" and "good things come to those who wait." Do you get annoyed when things don't happen fast enough? Do you tap your foot impatiently or keep looking at your watch when waiting on line?

When we learn to accept what is, and embrace life in each present moment, our impatience often falls away. These beautiful quotes will inspire you to have more patience in life.

Read the first quote on patience.

Follow Your Heart
"Follow your heart, but be quiet for a while first. Ask questions, then feel the answer. Learn to trust your heart."
–Unknown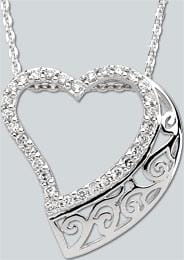 Click here for more information on the "Walking Beside You Pendant"
Be Patient
"Be patient toward all that is unsolved in your heart and try to love the questions themselves. Do not now seek the answers, which cannot be given you because you would not be able to live them. And the point is to live everything. Live the questions"
–Unknown
Human Wisdom
"All human wisdom is summed up in two words - wait and hope"
-Alexandre Dumas Père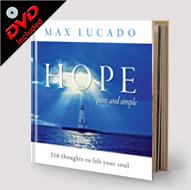 Click here to learn more about "Hope: Pure and Simple"
Companion of Wisdom
"Patience is the companion of wisdom."
- Saint Augustine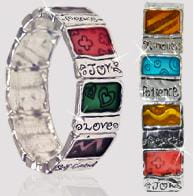 Let this "Fruit of the Spirit" multicolored bracelet be your daily reminder of Galatians 5 (Love, Joy, Peace, Patience, Kindness, Goodness, Faithfulness, Gentleness and Self-Control)
Patience and Time
"The two most powerful warriors are patience and time."
- Leo Nikolaevich Tolstoy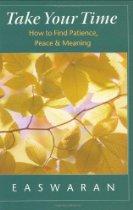 Click here to learn more about "Take Your Time: How to Find Patience, Peace, and Meaning"
Have Patience
"He that can have Patience, can have what he will"
-Benjamin Franklin
Faith Is A Spirit
"Faith is not simply a patience that passively suffers until the storm is past. Rather, it is a spirit that bears things - with resignations, yes, but above all, with blazing, serene hope."
-Corazon Aquino quotes (Political leader and president (1986-92) of the Philippines)
The Keys To Patience
"The keys to patience are acceptance and faith. Accept things as they are, and look realistically at the world around you. Have faith in yourself and in the direction you have chosen."
- Ralph Marston
The Secret of Patience
"The secret of patience is doing something else in the meanwhile"
–Unknown
Patience Is A Virtue
"Patience: A minor form of despair disguised as a virtue."
-Ambrose Bierce
Learn Patience Through Children
"You can learn many things from children. How much patience you have, for instance."
-Franklin P. Jones
Patience and Perseverance
"Patience and perseverance have a magical effect before which difficulties disappear and obstacles vanish."
-John Quincy Adams
Undo Yourself of Impatience
"Experience has taught me this, that we undo ourselves by impatience. Misfortunes have their life and their limits, their sickness and their health."
-Michel de Montaigne
A Garden Teaches Patience
"A garden is a grand teacher. It teaches patience and careful watchfulness; it teaches industry and thrift; above all it teaches entire trust."
-Gertrude Jekyll
Flourish Patience
"Affliction is the wholesome soil of virtue, where patience, honor, sweet humility, and calm fortitude, take root and strongly flourish."
-David Mallet
Seek Opportunities
"Deliberately seek opportunities for kindness, sympathy, and patience."
-Evelyn Underhill
Take Things As They Come
"Even a happy life cannot be without a measure of darkness, and the word happy would lose its meaning if it were not balanced by sadness. It is far better take things as they come along with patience and equanimity."
-Carl Jung
Practice Patience
"Good ideas are not adopted automatically. They must be driven into practice with courageous patience."
-Hyman Rickover
Be Patient With Yourself
Have patience with all things, but chiefly have patience with yourself. Do not lose courage in considering your own imperfections but instantly set about remedying them - every day begin the task anew.
-Saint Francis de Sales
Art of Patience
"Learn the art of patience. Apply discipline to your thoughts when they become anxious over the outcome of a goal. Impatience breeds anxiety, fear, discouragement and failure. Patience creates confidence, decisiveness, and a rational outlook, which eventually leads to success."
-Brian Adams
Greatest Virtue
"Patience is the greatest of all virtues."
-Cato the Elder
A Handful of Patience
"A handful of patience is worth more than a bushel of brains."
Dutch Proverb
Be Brave
We could never learn to be brave and patient, if there were only joy in the world.
Helen Keller
A Patient Soul
"The fates have given mankind a patient soul."
-Homer
Valuable Discoveries
"If I have ever made any valuable discoveries, it has been owing more to patient attention, than to any other talent."
-Isaac Newton
Patience Is Protection
"Patience serves as a protection against wrongs as clothes do against cold. For if you put on more clothes as the cold increases, it will have no power to hurt you. So in like manner you must grow in patience when you meet with great wrongs, and they will then be powerless to vex your mind. "
-Leonardo da Vinci
Learn To Have Patience
"You must first have a lot of patience to learn to have patience."
-Stanislaw J. Lec
Patience Is A Remedy
"Patience is the best remedy for every trouble. "
-Titus Maccius Plautus
No Patience
"How poor are they who have not patience! What wound did ever heal but by degrees."
-William Shakespeare