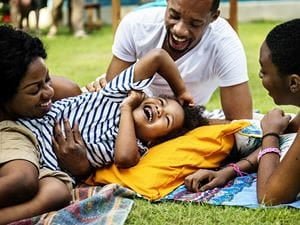 Shutterstock.com
Becoming a stepparent isn't on anyone's bucket list. When you think about your future children, we don't imagine a blended family, remarriage, or step parenting as part of the program. Still, living in a non-traditional family in modern times is pretty common. According to Smart Stepfamilies by Ron L. Deal, 42 percent of adults have a step relationship, whether a step or half sibling, stepchild, or stepparent. When you combine the 11.6 million stepchildren in the US, 16 percent of all kids, an estimated 113.6 million Americans, have a step relationship.
This surprising statistic leaves anyone in a blended family feeling less alone. It's common, regular, and more accepted in this generation of families. Your place in your blended family isn't a surprise to God. He put you in this situation for a reason. You and your stepchild share this family for heavenly purposes, and how you care for that role of step parenting can show hope to others in a similar position.
Still, it's not easy. Making a family come from different places, experiences, and backgrounds can be complex and challenging. If you're leaping into a step parenting role, you'll need all the help you can get. You want to bond with your stepchild or children. This bonding means reading some books or family therapy to help you along the way, which is okay. In the end, you can lean on God to guide you through these new experiences.
The connection you want with your stepchildren won't happen instantly. It'll take consistency, time, and hard work. Still, the effort will be worth it when you can share an affectionate relationship with your stepchildren that will last throughout their life. So how do you parent a child who isn't biologically yours? How do you love them like your own and connect on the deepest level possible with them? Here are some ways to bond with your stepchild.
Foster a cordial relationship with their other parent.
This step is crucial. To foster a peaceful relationship with your stepchild, you have to set aside any hurtful words, negative interactions, or resentment toward the other biological parent. These complicated relationships can be challenging; after all, you're now parenting a child with someone you didn't choose to parent with. This person likely had an issue with your spouse since they're no longer together. You must have forgiveness and grace if you want a peaceful and cohesive relationship with your stepchild. They'll never confide in you if you're spilling negativity about their other parent. They want to know that you can be trusted and relied upon with an ulterior motive or resentment affecting your judgment.
Be their friend, but also their parent.
This step can be tricky, but it's possible if your intentions are good and you have a hefty dose of God's help. The blended family dynamic can be all over the map. Sometimes, the stepparent takes on a disciplinary/parent role. Other times, the stepparent might leave the enforcement and discipline to the biological parents. Either way, you have to encourage a loving relationship with the stepchild. Talk to them about their time with their other parent, be silly with them, and take an interest in their lives.
Find activities to do together.
Every child is different, with their own interests. If you want to bond with your stepchild, make a plan and strategize on doing an activity with them. If your stepchild likes to bake, bake with them and make a list of your favorite things to make. Plan special time just for them and show your stepchild how important they are by spending time together. Make time to do something for just the two of you. It's helpful to have time alone to get to know each other. Take them on a date to their favorite restaurant and possibly buy them a special treat at the end.
Make space for them in the home.
Kids that live in two homes have different perspectives on life. Essentially, they have two places of relaxation and two of everything else. If possible, give your stepchild their own space in your home. If they have to share a room, still provide them with space in the room for their belongings where they know they'll be protected when they're not there. Children need to feel like their space is respected. They shouldn't feel like a guest in their own home. When they return, welcome them back with open arms and be excited about what happened in their life while they were away. Don't treat your stepchild differently from any other child in the home; give them responsibilities and chores just like everyone else.
Treat them like your child.
This tactic can be challenging. Naturally, you tend to parent your biological children and stepchildren differently. With your children, you show more compassion and grace regarding defiance. On the other hand, you tend to be harder on your stepchildren. This difference may happen without you recognizing it. If you realize this difference is happening, think about your words and actions when it comes to your stepchild and fix it when necessary. Apologize for unacceptable behavior by displaying your humility and humanness. Nobody's perfect, so treat your stepchildren like your own, even when it's tough. This behavior will build a bonding relationship where they'll feel unconditionally loved.
Try your best not to get overwhelmed with step parenting's ins and outs. There are tons of resources, books, and websites with oodles of wisdom. It may help to start slow and get to the basics. Pray for them, love them, spend time together, and connect with them. These steps are often easier said than done. If you start feeling overwhelmed, remember that you're not in this alone. Lean on God and His strength to help you with your step parenting superpowers.
When you first imagined yourself as a parent, you may not have thought about being a stepparent. However, this is the role you're in now, so you have to accept it. Treating your stepchild as your child is the most powerful thing you can do. Let them know that you love them as your own and don't treat them like a stepchild.