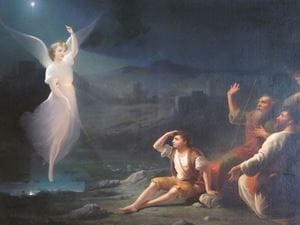 Thomas Buchanan Read / Wikimedia Commons
God's angels are truly watching over us. He makes this point clear in Scriptures throughout the Bible. Read on for six Bible verses that remind us there are angels watching over you.
In this article:
As humans, we typically imagine God's protection as a magical force field that keeps us from all harm. While God has the ability to stop evil, we have to remember that we live in a fallen world where we have free will. Because of this, sometimes God works in ways that we do not understand. Instead, God's protection can come in the form of peace and strength in the middle of despair, possibly in the form of angels.
As believers in Jesus, we are promised a new life covered under the protection of God and His angels in which nothing can ever separate us from His love. We can rest easy knowing that no matter what hardship we face, God is our provider and protector. He sends down His angels to watch over us and protect us from the harm of the world. These angels can give us peace so we can focus on knowing there is a bigger plan that God has chosen us for.
Angels have been cited all throughout the bible for their amazing ability to protect those in harm. Here are words straight from the Book of God that remind us that we are protected by God's angels.
"For He will give His angels charge concerning you, to guard you in all your ways."
This translates literally to mean that God will instruct His angels to watch over individuals. God will give each of His angels a purpose: to guard His children. Those who are faithful will be under the constant care of His angels.
"For it is written, 'He will command His angels concerning you to guard you carefully.'"
In this chapter of Luke, Satan challenged Jesus to throw Himself off the highest point of the temple by citing that God would protect Jesus with His angels. However when citing the Psalm 91:11 verse, Satan purposefully omitted "in all your ways" thus changing the meaning. The fact is that God sends His angels to protect those who have committed themselves to His loving care, not to those who want to put Him to the test.
"The angel of the Lord encamps around those who fear Him, and He delivers them."
The angel of the Lord can mean any one of God's angels. In this passage, it is noted that God would send His angels down to His true loyal children and rescue them from danger. His angels will lift us up and keep us from harm if we choose to trust in Him.
"See that you do not despise one of these little ones, for I say to you that their angels in heaven continually see the face of My Father who is in heaven."
Here, Jesus speaks of how God values each of His children. Because He loves each of us so much, God assigns angels to each of us for our protection. No matter who you are, how low you may feel in life, God doesn't discriminate who gets angels to watch over them. Instead, He tells others to "not despise" one another. In addition, the angels have direct access to God and are a helpful communication liaison between heaven and earth.
"Are not all angels ministering spirits sent to serve those who will inherit salvation?"
Angels are sent by God to protect us so that we are able to inherit God's kingdom in heaven. Angels are servants of God that carry out His will and work for our good. Here, we are given protection and shelter by the angels by their ability to assist us in our deliverance from sin and being gifted by eternal life in heaven.
"See, I am sending an angel ahead of you to guard you along the way and to bring you to the place I have prepared."
This is a great example of God showing how He can use His angels to protect His children. The Lord was promising the Israelites that they would be guided by an angel to the Promised Land of Canaan. The Israelites were protected during their journey through the wilderness because they trusted in God and His promises.
These bible verses serve as reminders that God's angels will always watch over us. If we trust in God and His plan for us, we will be protected by His angels as we walk throughout life. Angels are a direct way for us to connect with the Lord, so we should accept their protection and trust in their abilities.
More on Angels from Beliefnet:
7 Archangels and Their Meanings
Angel Feather Colors and Their Meanings
Bible Verses About Angels Watching Over Us
Healing Miracles From Angel Raphael