Have you ever experienced what it's like to walk into a new church? You're surrounded by new people, new teachings, and a new building. You don't know anyone there, let alone even know where to go. If you aren't someone that is extroverted, or has been to churches before, the entire experience can be very intimidating. Hearing other members talk in different church lingo to having to search for the restroom can all be a nerve-wracking experience.
Churches want to see new members get excited about their church, but if they aren't opening their doors with welcoming arms they might be turning these outsiders away. It's time churches put themselves in newcomers shoes and really evaluate if their church fosters an environment that is comfortable, safe and welcoming. Do outsiders feel the love of God as soon as they walk in? Are they greeted with a smile, or being met by unfriendly members? These are important questions to ask.
Here are the signs your church is intimidating to outsiders.
---
Unfriendly Church Members, Staff and Leaders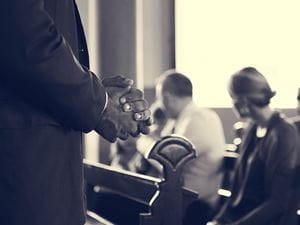 Shutterstock.com
Imagine this: a new mom walks into a church with her daughter and sits down in a pew, only to be told by another member that she's in "their" seat. How scary would that be? While we hope that our church members wouldn't be so harsh to newcomers, the reality is we can't always control what people are going to do or say. We need to help our members create an environment that is welcoming and open to new arrivals.
Church members don't need to fake friendliness and try to befriend every new person that walks into the church. However we can encourage that they can show basic kindness – for example offering directions to the childcare center. Church leaders and staff can help take it from there, and really get to know the new people and welcome them into the church. Despite whatever problems you may be facing that Sunday morning, it's important to keep a smile on and welcome everyone in just as Jesus would. One handshake can go a long way for someone that feels awkward in a new and confusing environment.
---
---
Poor Availability of Information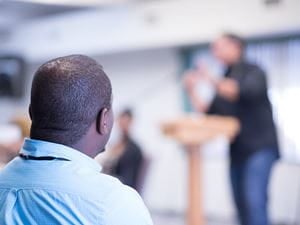 Shutterstock.com
Communication is a key component to keeping new members engaged with your church. Whenever someone new walks in the doors, they should be offered information about church services, activities and missions. They should be given contact information for various church operations – from the youth minister to the choir director. If your church has no clear way of getting information out to the public, it comes off as the church not wanting to accept new people or their questions. Furthermore, a bad church website can scare off new members. If the website or social media properties of the church are run poorly, don't offer service times or even the address of the church, chances are people will not want to go.
For example, you probably already know about the amazing childcare your church offers for churchgoers. However if this information isn't provided anywhere, newbies coming in might not know it exists, and feel they are obligated to watch their children during the sermon. In addition, poor signage can be a problem. While you know exactly which room the 3rd grade Sunday School class meets, outsiders will not. They will become confused, frustrated and might be afraid to look around, especially if your church is large.
---
Unmoved by the Sermon or Ministries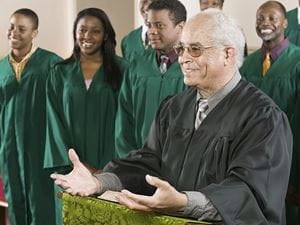 Shutterstock.com
For someone that is an outsider, one of the most important things they are looking for is a place that they can grow their love of God (or, start to build a relationship with God if they are new to Christianity all together). This starts by finding a church where they regularly connect with the sermons, small groups and ministries that it offers. Now, no church is going to be able to connect with every single member through every single sermon. However you cannot expect young adolescents to become engaged when the ministries are typically catered to retired adults. People need a place where they feel they can really grow spiritually.
For those who have never known God, going to a church and not connecting with any of its immediate teachings can be intimidating and scare them off quickly. This is why it's so important to reach out to the new people who walk in each Sunday. Be open to asking them their needs and directing them to ministries you feel they would connect the best. It can be scary to feel unmoved completely, so help offer them alternatives your church offers.
---
---
They Feel Unknown or Unneeded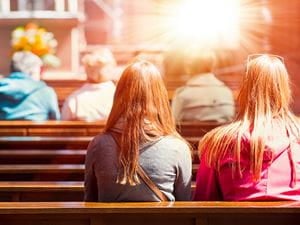 shutterstock.com
Good worship services and strong preaching are great for attracting people to the church, but they are not enough for keeping people in the church. When someone new has been at your church for months, but feels they are still an outsider, they will likely leave. It would be scary to not develop a single friendship after being at a church for that long. Churches should have a plan to help newcomers assimilate with the community. For example, some churches will have their Pastor hold informal "meet-and-greets" after every service, so that newcomers can get information on the church and begin putting names to faces.
People want to feel like they are making a difference, too, however if they cannot find a place in the church where they "fit" it can be a little nerve-wracking. Encourage outsiders to join a new ministry, volunteer at a church event, or serve in some other way. When we ask new members to help the church, they feel wanted and desired. God gave talents to every person, and those should never go untapped because a church feels they already have everything taken care of.
---
Walking into a new church as an outsider can be intimidating. There are people you don't know, teachings you may not have heard of before, and a whole building layout you need to learn. If you want to be the church that is known for being welcoming of new members, make sure to avoid these practices. God opens His arms up for new people that come to Him, and you can too!