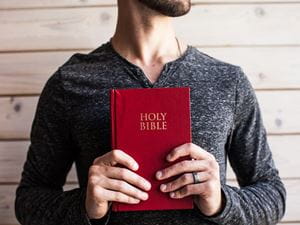 Lightstock.com
Time seems to stand still when a pressing problem is making us worry. It is an emotional pain that suspends itself across all other daily experiences. Comforting Bible verses may ease our worried minds and give us rest: peace and balance. Reading and reflecting on God's timing quotes in the Bible provides stability in life's difficult times.
Reassuring quotes about God's timing.
How difficult is it to trust in God's timing and blessings? Sometimes, we want certain things and enjoy them right now. Still, everything is awarded at the right time by God. Have patience, faith, and trust in God's actions. He has a plan for you, and you will get it at the perfect time. Here are some reassuring quotes about God's timing to get you through the hard times.
"God's will may not be the perfection of the true believer's life, but it is the direction of it." – John F. MacArthur
"You may not understand God's timing about something, but you have to trust that His timing is perfect. Trust Him and find rest." – Victoria Osteen
"Stress makes you believe that everything has to happen right now. Faith reassures you that everything will happen in God's timing." – Marcus Lamb
"The timing of God often defies your thinking. It contradicts logic. You may have troubles, battles, or trials, but they do not negate God's love for you. There is a purpose behind your pain. Jesus said Lazarus' sickness was part of a KINGDOM AGENDA!" – Comfort Ocran
"I can't change the direction of the wind, but I can adjust my sails to always reach my destination." – Jimmy Dean
"With God, there's always an appointed time for things, and when you put Him first, trust in His timing, and keep the faith, miracles happen!" ― Germany Kent
"Sometimes we have to let our dreams go in order to allow God to bring them back to us – in his way and his timing." ― Melody Carlson, The Christmas Angel Project
"If I really believe that my timing is perfect, maybe the thing that's perfect is my denial about my timing. And if that's the case, maybe now is the perfect time, to be honest about that." ― Craig D. Lounsbrough
"I question and soul-search constantly into myself to be as certain as I can that I am fulfilling the true meaning of my work, that I am maintaining my sense of purpose, that I am holding fast to my ideals, that I am guiding my people in the right direction." – Martin Luther King Jr.
"God does not give us everything we want, but He does fulfill His promises, leading us along the best and straightest paths to Himself." - Dietrich Bonhoeffer
"The best thing about the future is that it comes only one day at a time." – Abraham Lincoln
How can we wait on God's timing?
After enduring a time of despair, the prophet wrote in Psalm 73:21-24, "When my heart was grieved, and my spirit embittered, I was senseless and ignorant; I was a brute beast before you. Yet I am always with you; you hold me by my right hand. You guide me with your counsel." We are not alone when we wait for God to answer our prayers.
The New Testament adds to this understanding. 2 Peter 3:9 tells us, "The Lord is not slow in keeping his promise, as some understand slowness. He is patient with you, not wanting anyone to perish, but everyone to come to repentance." We may realize truths while waiting on God, just as Job did.
The Gospel of Matthew 6:31 and 33 says, O you of little faith? So do not worry, saying 'What shall we eat? Or What shall we drink? Or What shall we wear. But seek ye first the kingdom of God and his righteousness, and all these things will be added unto you."
Jesus describes sparrows watched by God and lilies of the field dressed more beautifully than King Solomon. God watches his natural world, and He is indeed watching us. While we struggle, it is difficult to trust God with our future needs. However, it is reassuring to read that there are more incredible blessings ahead than we could ever dream of.
As it says in Psalm 37:4, "Delight yourself in the Lord, and he will give you the desires of your heart." Note that the Lord is doing the giving in the future; He will provide you with the desires of your heart. We have to trust with great expectations that the Lord will bless us in the future.
2 Corinthians 4:16-18 reminds us, "Therefore we do not lose heart. Though outwardly, we are wasting away, yet inwardly we are being renewed day by day. For our light and momentary troubles are achieving for us an eternal glory that far outweighs them all. So we fix our eyes not on what is seen but on what is unseen since what is seen is temporary, but what is unseen is eternal."
Waiting is not easy but waiting on the Lord builds character and results in great blessings. The Lord promises to be with us in our worrying times. His "timing" is always and forever. As Jesus said at the end of His time on earth, in Matthew 28:20, "I am with you always, even unto the end of the world."
The comforting words of Psalm 23 remind us that we are held in God's hands now and our future. While we are waiting and watching for God's guidance, we must realize that God has a divine plan for each of us. We are protected, loved, and worth being shepherded through life. After waiting for God's timing, everything will come together and make sense. There are several reasons why God makes us wait. It could be He feels that we're not ready for what we're asking for. Another reason is He has something much better in store for us. Whatever the reason, take the time and wait on God. You won't regret it.