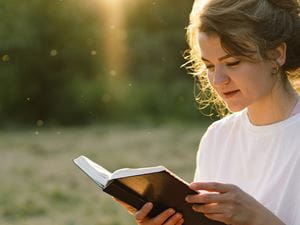 Twenty20
It's hard to make it through life whenever you're dealing with a difficult situation. You know God is there, and you know He is listening, but sometimes you just need a reminder. Reading inspirational Bible verses about strength can help you through a hard time with the encouragement of God's promises. It is crucial to know where to turn for help and comfort when life gets tough. Regardless of what kind of challenges you may be facing, the Father is always our source of hope and relief. Leaning on God is the best thing to do when things get complicated. He's the only one that can offer true comfort in a time of need. Prayerfully, these verses lift your spirits and lighten your loads.
Inspirational Bible Verses About Strength
God tells us that we will have troubles in this world and face some unknown, challenging times. However, He also promises that we have victory through our faith because Jesus Christ has overcome the world. If you face tough and uncertain times, you can be encouraged to press on, knowing that you are an overcomer. These Bible verses about strength in hard times remind us just where to look when storms come.
Psalm 9:9-10
The Lord is a refuge for the oppressed, a stronghold in times of trouble. Those who know your name trust in you, for you, Lord, have never forsaken those who seek you.
Philippians 4:19
And my God will meet all your needs according to the riches of his glory in Christ Jesus.
Psalm 32:7-8
You are my hiding place; you will protect me from trouble and surround me with songs of deliverance. I will instruct you and teach you in the way you should go; I will counsel you with my loving eye on you.
1 Peter 5:7
Casting all your anxieties on Him because He cares for you.
Romans 8:18
For I consider that the sufferings of this present time are not worth comparing with the glory that is to be revealed to us.
1 Peter 1 6-7
In this you rejoice, though now for a little while, if necessary, you have been grieved by various trials, so that the tested genuineness of your faith—more precious than gold that perishes though it is tested by fire—may be found to result in praise and glory and honor at the revelation of Jesus Christ.
Joshua 1:9
Have I not commanded you? Be strong and courageous. Do not be frightened, and do not be dismayed, for the Lord your God is with you wherever you go."
Mark 9:23
And Jesus said to him, "'If you can'! All things are possible for one who believes."
Romans 8:28
And we know that for those who love God, all things work together for good, for those who are called according to his purpose.
Ecclesiastes 7:10
Say not, "Why were the former days better than these?" For it is not from wisdom that you ask this.
Psalm 46:1-3
God is our refuge and strength, an ever-present help in trouble. Therefore we will not fear, though the earth give way and the mountains fall into the heart of the sea, though its waters roar and foam and the mountains quake with their surging.
Proverbs 18:10
The name of the Lord is a strong tower; the righteous run into it and are safe.
Nehemiah 8:10
Do not grieve, for the joy of the Lord is your strength.
Isaiah 41:10
So do not fear, for I am with you; do not be dismayed, for I am your God. I will strengthen you and help you; I will uphold you with my righteous right hand.
Exodus 15:2
The Lord is my strength and my song; he has given me victory. This is my God, and I will praise him— my Father's God, and I will exalt him!
Exodus 33:14
My presence will go with you, and I will give you rest.
Deuteronomy 31:8
It is the Lord who goes before you. He will be with you; he will not fail you or forsake you. Do not fear or be dismayed.
Deuteronomy 33:27
The eternal God is your refuge, and underneath are the everlasting arms.
Psalm 34:17
When the righteous cry for help, the Lord hears, and rescues them from all their troubles.
Isaiah 26: 3-4
Those of steadfast mind you keep in peace—because they trust in you. Trust in the Lord forever, for, in the Lord God, you have an everlasting rock.
1 Chronicles 16:11
Seek the LORD and his strength; seek his presence continually!
Isaiah 43:1-3
Do not fear, for I have redeemed you; I have called you by name, you are mine. When you pass through the waters, I will be with you; and through the rivers, they shall not overwhelm you; when you walk through fire, you shall not be burned, and the flame shall not consume you. For I am the Lord you God, the Holy One of Israel, your Savior.
Luke 12:25-26
Who of you, by worrying, can add a single hour to your life? Since you cannot do this very little thing, why do you worry about the rest?
Philippians 4:6
Do not worry about anything, but in everything by prayer and supplication with thanksgiving, let your requests be made known to God. And the peace of God, which surpasses all understanding, will guard your hearts and your minds in Christ Jesus.
John 14:27
Peace I leave with you; my peace I give you. I do not give to you as the world gives. Do not let your hearts be troubled, and do not be afraid.
We have all faced times of wavering or tired faith. Loss of a job, health problems, and death happen, and we are left wondering where God is and why this happened. The Bible tells us that faith is the belief, trust, and loyalty to a person or thing. Christians find their security and hope in God as revealed in Jesus Christ. When your faith struggles to keep believing, turn to these Bible verses about strength in hard times for inspiration and encouragement.