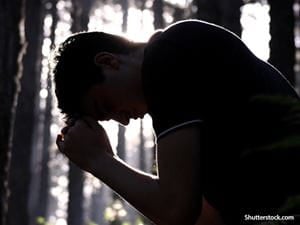 The Bible tells us "Do not be afraid; do not be discouraged, for the LORD your God will be with you wherever you go" (Joshua 1:9). It's important to have faith in God when you can't see the way but how can you offer God praise when you're dealing with hardship and pain? The choices you make in these moments are so important. They can propel you toward God or away from Him. You can find God in the hard times by choosing to trust and hope when we can't see the way. This will help us turn to praise and glorify God better.
According to Scripture, praise is an act of our will that flows out of us through reverence of God. Our God is worthy of praise. Revelations 5:11-14 speaks of a voice of a thousand angels around God's throne, singing in a mighty chorus "Worthy is the Lamb who was slain – to receive powers and riches and wisdom and strength and honor and glory and blessing". When we give glory to God, it opens us up to a more intimate relationship with Him. However, the difficulties of life often cloud our vision and keep us from praising God. If we want to turn our hearts towards praise, we must shift our vision, particularly related to our pain and our suffering. Scripture is a great resource when dealing with difficult or tragic circumstances.
The book of Lamentations gives us a great example of a worshiper who experienced pain and yet used the act of remembering as a pathway to praise Him. Lamentations 3:20-21 says, "I will remember them, and my soul downcast within me. Yet this I call to mind and therefore I have hope" (NIV). The Message words it, "I remember it all…the feeling of hitting rock bottom. But there's one other thing I remember, and remembering, I keep of gripping on hope." The discipline of remembering helps us keep a grip on hope. It builds our faith and helps us find our way on the paths of praise. The psalmists constantly practiced this discipline. The writer in so many of the psalms points to God's faithfulness as a bridge towards worship and hope. Psalm 13 starts with a desperate cry but ends with a reminder of God's track record in his life: "How long, O LORD? Will You forget me forever? How long will you hide Your face from me? How long must I wrestle with my thoughts and day after day have sorrow in my heart? How long will my enemy triumph over me?" (Psalm 13:1-2). The psalmist presents urgent questions from a worshiper longing to be free from suffering. Yet his song ends with his choice to believe and trust in God's unfailing mercy: "But I trust in Your unfailing love; my heart rejoices in Your salvation. I will sing the LORD's praise, for He has been good to me" (Psalm 13:5-6). It is hear that we can learn a beautiful truth: Remembering releases rejoicing.
As we begin to invest our lives in Scripture and pay attention to the pain in our own lives, we recognize that in times of anguish, God is closer and more at work than we know or realize. The Bible says, "Blessed be the God and Father of our Lord Jesus Christ, the Father of mercies and God of all comfort, who comforts us in all our affliction, with the comfort with which we ourselves are comforted by God. For as we shared abundantly in Christ's suffering, so through Christ we share abundantly in comfort too. If we are afflicted, it is for Your comfort and salvation; and if we are comforted, it is for Your comfort, which You experience when You patiently endure the same sufferings that we suffer. Our hope for You is unshaken, for we know that as You share in our sufferings, You will also share in our comforts" (2 Corinthians 1:3-8). Even in our pain and our suffering, we cry out, "Blessed be Your name" and we begin to see how God has been working through our lives and witness the fruit of all He has accomplished in us during our times of struggle.
Enter His gates with thanksgiving and His spirits with praise; give thanks to Him and praise His name.
~ Psalm 100: 4-5 ~
God is present come rain or shine. He is even present when we fail to realize it. It's important that we not only turn our focus back to praise when we begin to lose hope but also that we turn to praise in times of abundance. Many of us are quick to question God when things go wrong, but slow to honor Him when things go well. One of the biggest challenges here is turning every blessing He pours into our lives back into praise. One way we can do this is through gratitude. Thanksgiving is a great way for us as Christians to take steps into worship. Psalm 100 exhorts this and us: "Enter His gates with thanksgiving and His spirits with praise; give thanks to Him and praise His name" (Psalm 100: 4-5). In order to have a heart of gratitude, we must bless God and others.
When we focus our minds in the direction of God and proclaim His goodness, we reflect His glory. When we do this, we are filled with peace and contentment. This can help shift our outlook related to our circumstances. Finding God in the hard times can be particularly difficult. That's why it's so important to choose trust and hope when you can't see the way. If you are looking to learn more ways to weather the storms of life while also blessing God's name, read "Finding God in the Hard Times" by Matt and Beth Redman.