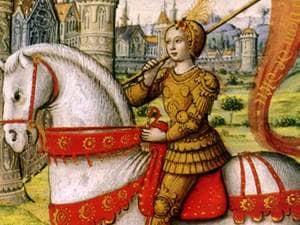 Wikimedia Commons
When you think of the saints, what comes to mind? The first thing that most people think of is their deep, abiding love for God above all else. If they didn't have that quality, first and foremost, they probably wouldn't have been declared saints. But what other qualities do you associate with them?
When considering the men who are saints, you might contemplate their bravery, strength and endurance. For female saints, however, you might be more inclined to focus on their kindness, generosity and purity. And while those attributes can usually describe most women saints, many of them lived their lives with the same amount of courage as their male counterparts. And they can just as easily serve as our role models.
In a world where religious freedom is in jeopardy for all traditional religions, and violence, poverty, illness and disaster continuously impact our society, courage is desired and needed by many. During a 2013 homily, Pope Francis spoke about its value in maintaining our faith. He said, "Let us ask for the grace of courage, for the courage to continue on in our Christian lives, amid the day to day, and also in extreme situations."
Although meditating on the lives of brave men who are now saints can help us find that courage, we can also look at the lives of the brave women who are now saints, and we can find that same inspiration. Here are eight such saints whom we can look to for encouragement in our pursuit of courage.
1. Saint Agnes
One of the bravest saints to have ever lived became a virgin-martyr when she was only 12 or 13 years old in Rome in 304 AD. Saint Agnes is the patron saint of young girls, as well as rape survivors, the Children of Mary and chastity. Her feast day is January 21, and it is honored in a special way by the Catholic Church.
Born to Christian parents at a time when pagans ruled Rome, St. Agnes was such a beautiful young girl that many powerful men wanted to marry her. But she told all of them that Jesus was her only Spouse, and she wanted to remain pure and holy for Him. The men whom she had rejected turned her over to the authorities for being a Christian. At first, she was promised expensive gifts if she would renounce God. When that didn't work, she was put in chains. When she still refused to deny God, she was forced to live in a brothel, but an angel protected her. Because her love of God and hatred of sin was so great, she remained faithful and pure and prayed just before she was brutally executed for being a Christian.
2. Saint Joan of Arc
Another brave female saint who became a virgin-martyr when she was still a teenager was Saint Joan of Arc. She was born in France in 1412 and was killed May 30, 1431. She is one of the patron saints of France. But she's also the patron saint of soldiers, military personnel, martyrs, captives, people who have been ridiculed for their faith and women who served in WAVES (Women Accepted for Volunteer Emergency Services) and in the Women's Army Corps.
Born a Christian peasant, the saint said she received visions of Saint Michael the Archangel, Saint Margaret and Saint Catherine of Alexandria. The saints requested that she actively support Charles VII in his quest to reclaim France from British power. Through her extraordinary bravery in helping and accompanying the relief army, she helped win battles that led to the coronation of King Charles VII and to France's ultimate victory at the end of the Hundred Years' War. She was captured by French noblemen who supported the British, and she was falsely tried, convicted and burned at the stake. Even though she said early in her mission that she would rather be at home spinning wool with her mother, she wanted to do what she believed was God's will.
3. Saint Josephine Bakhita
Although she lived a much longer life than St. Agnes and St. Joan of Arc, Saint Josephine Bakhita's youth was filled with tremendous suffering. St. Josephine Bakhita was born in the Darfur region in 1869. Now the patron saint of Sudan, the courageous woman who was once a slave, endured everything from torture to racism to become a free, much-loved and revered Canossian Sister and Daughter of Charity. She passed away on February 8, 1947.
Captured and enslaved in Sudan when she was only a child, the saint was severely abused and suffered at the hands of her first four "owners." Although the last two families treated her like a trusted servant, when she and the child she took care of had to stay with Canossian Sisters in Venice, Italy, she realized it was where she was meant to be. To win her freedom and entrance into the religious order, she had to find the courage to fight racism and injustice. After everything she had endured, she finally became a Daughter of Charity in 1896. She became a beloved nun who brought kindness and compassion to many.
4. Saint Marguerite Bourgeoys
Saint Marguerite Bourgeoys, the first female saint from the Catholic Church in Canada, was a Religious Sister who helped care for and educate many Native Americans and Canadian colonists. Her feast day is January 12. The trailblazer also founded one of the first uncloistered religious orders for women in the world. But her great accomplishments, which served God, couldn't have been achieved without courage.
In order to establish schools for immigrants and children in the 1600s, she faced grave dangers. In addition to making three voyages to France, where she was born, to recruit Sisters to minister in hospitals and teach, she endured stark poverty, attacks from Native Americans and the dangers of what was then the Canadian wilderness. She also had to peacefully stand her ground against the Church's desire to make her order into a cloistered one, where they would not be able to go out and minister to the sick or teach.
5. Saint Teresa of Calcutta
Another saint who found the strength and courage to live in dangerous conditions among the poorest of the poor is Saint Teresa of Calcutta. The saint shared God's mercy and compassion with people around the world. She has also inspired many to follow in the compassionate footsteps of Jesus – our ultimate Teacher. Her feast day is September 5.
Saint Teresa of Calcutta didn't shy away from people with contagious diseases, and she didn't fear the stress and sadness that can come from constantly living with and serving people who suffered because of extreme poverty. She found the bravery she needed in her faith. She once told her Missionaries of Charity, "The cup of water you give to the poor, to the sick, the way you lift a dying man, the way you feed a baby, the way in which you teach an ignorant child, the way you give medicine to a leper…your attitude and manners toward them – all this is God's love in the world today."
6. Saint Therese de Lisieux
Born Marie Francoise Therese Martin in 1873 to Saints Louis and Zelie Martin, Saint Therese de Lisieux (also referred to as St. Therese of the Child Jesus and the Holy Face) is affectionately called the Little Flower. Her feast day is October 1. A Doctor of the Church, the saint's "little way" of love and Christian spirituality encourages people to love and serve God with a childlike trust in His eternal goodness. It has been a big inspiration to many.
But although her little way of love is filled with light, she had to find the courage to deal with the darkness and obstacles that she encountered from the time she was a toddler until she passed away at age 24. Her amazing faith endured despite losing her mother when she was only four years old and also losing four of her nine siblings. Her infinite love of Jesus also helped her to bravely endure her long battle with tuberculosis. Her last words were, "My God, I love you!"
7. Saint Monica
Saint Monica is the patron saint of wives and mothers. But it's not because she had a blissful Christian marriage or family life. On the contrary, she had to summon all the courage she could to continuously pray for God to turn things around. In the 4th Century, the devout Christian was married to an angry pagan who was unfaithful to her. Although he taunted and lied about the saint, she never stopped praying for his conversion and the conversion of their son, Augustine.
While her husband converted shortly before he passed away, she followed her son to Italy to try to get him to convert to Christianity. Along with seeking the help of Saint Ambrose, she spent 17 years sacrificing and praying for her son. Fortunately, she lived to see her son get baptized and live a Christian life. Although she only lived for less than a year after his conversion, her love and tireless devotion helped him to not only be a great Christian, but a great saint as well.
8. Saint Adelaide of Burgundy
Born a princess in Burgundy, Italy around 931, Saint Adelaide of Burgundy's father passed away when she was only six-years-old, and she was married to Lothaire, the king of Italy when she was sixteen. But her life as a queen wasn't easy. She became a widow when she was only around eighteen years old, and her husband's enemy took over the kingdom and threw her into prison.
Despite suffering in prison, she found the courage and determination she needed to escape. While she was fleeing to Germany, the devout Christian met Emperor Otho I, who had been leading an army, at the pope's request, to save her. He soon became her second husband and eventually took over the kingdom. As empress, she used her power and wealth to help people. After she was widowed a second time, she continued to help people, and she had many religious houses built. The brave, virtuous, kind-hearted saint is the patron saint of second marriages and widows.
Whether they stoically faced suffering due to illness, persecution or poverty, all of these great female saints can serve as our role models as we seek courage. As eight women among the multitudes of brave women and men who have been declared saints, they encourage us – by their example – to hold on to our faith, even when it's not easy to do so. And they help us to seek refuge in Jesus, Our Lord and Savior.
More on religious women here:
6 Women Every Christian Should Know