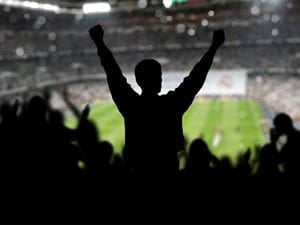 Shutterstock.com
It's often said that football is like a religion in the United States. It inspired belief, passion, and devotion that most spiritual leaders envy. Faith and football have been linked together for many years and have much in common. You go to church on Sunday, the day that most NFL games happen, and people have a particular way of devoting themselves to their teams, the same way Christians devote themselves to Jesus. Football players and coaches tend to give God thanks and glory after a thrilling win or devastating loss.
After the Philadelphia Eagles beat the New England Patriots in the 2018 Super Bowl, faith was at the forefront. After receiving the Lombardi Trophy at the post-game ceremony, Eagles coach Doug Pederson thanked "my Lord and Savior Jesus Christ." To echo his proclamation, quarterback Nick Foles and tight end Zach Ertz glorified God. Most viewers saw the Eagles as the underdogs, and their victory's leading engineers were unlikely heroes. Nine years before, Pederson was a high school football coach in Shreveport, Louisiana, and Foles was the Eagles' backup quarterback. Right before the game, Foles, Pederson, and other Eagles used the Super Bowl spotlight to discuss their faith.
Sports and faith.
Faith has always played a significant role in the National Football League. One-third of the players in America's three major professional team sports, basketball, baseball, and football, are born-again Christians, with the NFL leading the way with the highest percentage. Athletes in Action assess that 35 to 40 percent of NFL players are evangelicals, in comparison to almost 25 percent of Americans. Post-game prayer huddles, interviews, print testimonies, and Hall of Fame acceptance speeches show that the Christian faith is crucial in pro football culture.
When most people think about football and faith, the first person that comes to mind is typically Tim Tebow. While his faith gained most of the media attention while he was playing, numerous coaches like Joe Gibbs, Tony Dungy, Tom Landry, and Mike Tomlin were known for their commitment to their Christian faith. Various star athletes were also outspoken about their faith, like Kurt Warner, Reggie White, Drew Brees, Russell Wilson, Jared Allen, LaDainian Tomlinson, and many others.
The NFL's response to outspoken faith.
The NFL has been hesitant about Christians declaring their faith. Some Christian players and coaches believe they can speak freely about their faith and evangelize if done wisely. However, some say the league favors players and coaches acting like Christians without explicitly saying they're Christians. The NFL doesn't have rules stopping personnel from evangelizing or talking about their faith. Still, players aren't allowed to wear religious symbols or messages on their clothes during games or in post-game interviews.
Many coaches, owners, and league executives are happy to see the large amounts of Christians in the NFL because they act decently, have strong marriages, and positively influence their teammates. They're also active in their communities and help the league handle the negative impact of some players' egregious behavior off the field. Curtis Eichelberger, author of "Men of Sunday: How Faith Guides the Players, Coaches, and Wives of the NFL," says Bible studies, religious instruction, and chapel services give therapy and counseling so players can be at the top of their game emotionally and mentally.
Numerous coaches see faith as an influence in a profession where poor performance or injury can destroy friendships, jobs, self-identity, and marriages. This reason is why every NFL team has a chaplain. Sports can keep athletes on the right path and prohibit them from living lives that would weaken their competitiveness or use drugs. Professional sports should encourage their wholesome image; nothing like religion does that.
Christianity's negative impact on the NFL.
While the connection between faith and football has numerous benefits, some believe that Christianity's influence on the NFL is mainly negative. Anthony Prior, the author of "The Slave Side of Sunday," argues that a player's faith desensitizes them to the game's wrongs, makes them subservient to their coaches, and urges them to accept the status quo. He also says that chapels and Bible studies divide teams into two groups, nonparticipants and participants, an idea that Christian players and chaplains further prove. They also insist that some players only go to religious services to help them make the team, but if they do, they put their Bibles away and only bring them out when they're hurt.
God connects through sports.
On the other hand, many others, including evangelicals, are happy about the many vocal Christian players in professional sports. After the 2018 Super Bowl win for the Eagles, K-Love, a nationwide Christian radio group, played clips of Foles' and Pederson's interviews. Many Christians argue that God uses these sports to convert the unsaved.
Most Christian chaplains, players, and coaches agree that God doesn't care what team loses or wins, and praying for a win aren't appropriate. Former Steeler chaplain Jay Wilson says that athletes who pray to win are immature Christians. Instead, they should ask God to help them perform at their highest potential, contend according to biblical morality standards, and expand their character. Chaplains typically pray that athletes play with integrity, do their best, avoid injury, and honor God in their play.
Fears about drug usage, concussions, domestic violence, and sexual assault perpetrated by players in major college programs and the NFL lead many to demand reform. Some are advocating ending the sport altogether. Still, the NFL is America's most trendy sports league, with almost 43 percent of Americans saying that professional or college football is their favorite sport. The religious commitment of many players and coaches will undoubtedly continue to impact the NFL in the years to come strongly.
You may not realize it, but football and faith have much in common. Sundays are their prime days, and fans devote themselves to their teams. Still, the connection between faith and football is more profound than you would imagine. While some say the relationship has negative impacts, you can't help but see the positives. Players and coaches aren't afraid to show their faith because they know God uses sports to bring people together.