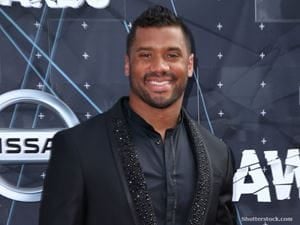 There are many stars in the NFL, but few have set the stage on fire like Russell Wilson has. Since he was drafted by the Seattle Seahawks in 2012, he has broken record after record and has been a standout player on and off the field. He is also a proud Christian, unapologetic about his beliefs and is someone in the League that many admire. Here are five things you didn't know about Russell Wilson. Wilson found religion at the age of 14, after Jesus came to him in a dream.
It's no secret that Russell Wilson is devout Christian. The quarterback often praises God for his victories on and off the field. His relationship with singer Ciara Harris got a lot of media attention when the two revealed that they were planning on abstaining from sex until marriage so they could build a stronger relationship Jesus' way. Wilson found religion at a young age after Jesus appeared to him in a dream about his dad passing away. Jesus came into his room and told Wilson that he needed to find out more about him. That Sunday, he went to church, and he's been a devout Christian ever since.
When it comes to decisions involving his future, he seeks God. He wears number 3 on his jersey because of the Holy Trinity. It had been reported that Wilson chose number 3 because he was selected by the Seahawks in the third round. However, Wilson says that he chose the number to honor the Holy Trinity.
Wilson visits Seattle Children's Hospital every Tuesday
Wilson visits sick children at the Seattle Children's Hospital for 1 hour each week. He isn't hanging in the hospital lobby or cafeteria fronting with the masses either. Wilson goes into the hospital's most critical situations in the intensive-care and cancer units. Tuesday is the official players' day off during the season and Wilson chooses to spend the day hearing children's stories, speaking to as many kids and families as possible and sharing their emotions. Wilson has been doing this for years. The day has become known as "Blue Tuesday's" at the hospital. He's known to bring his Seahawks teammates or celebrity friends along with him to assist in inspiring and uplifting their spirits. Some have criticized Wilson for promoting these visits on social media, believing he's doing it to be self-serving but that is far from the case. The truth is that the posts of Wilson's visits are enormous sources of pride and appreciation for the kids he is highlighting and their families. The hospital also encourages it, sometimes even facilitates it, sharing the images across the internet.
Wilson writes for The Players' Tribune
Wilson is a senior editor The Players Tribune, the website launched by former New York Yankees shortstop Derek Jeter. It's a project that gives athletes a voice online in an effort to bring them closer to fans. The quarterback has a degree in communications so it may come as no surprise that he has not only written for the publication, covering hard-hitting issues like domestic violence and offering an inside look at his approach to the game. Wilson, a former professional baseball player grew up a fan of Jeter's so it would only make sense that he would be excited about being involved in this project.
Wilson was drafted by two Major League Baseball teams.
After graduating from high school, Wilson was drafted by the Baltimore Orioles in the 41st round of the 2007 MLB draft. He turned down both invitations and instead attended NC State. In 2010, Wilson was selected in the fourth round by the Colorado Rockies and played ball with the Tri-City Dust Devils and Ashville Tourists before he was acquired by the Texas Rangers in 2013. While Wilson attended spring training, he decided to take his career in a different direction. After enjoying success in his first season as a quarterback in the NFL, Wilson said he wouldn't be pursuing his career as a baseball player. In 93 career games at the minor league level, Wilson hit .229 with 5 home runs and 26 runs batted in. He had 19 career stolen bases. If Wilson were to relaunch his baseball career and make the major leagues, he would have been only the eighth player since 1970 to play both sports at the highest level. Famously, Bo Jackson and Deion Sanders played football and baseball simultaneously while others like Brian Jordan, Drew Henson and Chad Hutchinson played one and then the other.
Wilson is a history maker.
In his first two years as a quarterback, Wilson won more regular season games as a starter than any other quarterback in NFL history. Wilson outpaced former Miami Dolphins quarterback Dan Marino, Atlanta Falcons quarterback Matt Ryan and Indianapolis Colts quarterback Andrew Luck, who each tallied 33 regular season wins through their first three years in the League. Wilson won 36. Let's think about that for a second; it's essentially the most important statistic, league-wide. This means that Wilson's accomplished something star quarterbacks like Tom Brady, Peyton Manning and Cam Newtown didn't even equal.
He's also the 1st player in NFL Playoff history to throw four interceptions and the game-winning touchdown in the same game. In the Seahawks' NFC Championship game against the Green Bay Packers, Wilson threw a career-high four interceptions. Despite the performance, Wilson continued to believe in himself and his teammates as he led the club to a 28-22 overtime victory to secure Seattle its place in back-to-back Super Bowls. Through the Seahwaks' final three possessions against Green Bay, Wilson went 6-of-7 for 114 yards, included the game-winning 35-yard touchdown toss to wide receiver Jermaine Kearse, strong for a 157.3 passer rating.
Finally, he's 1 of 2 players with 50-plus passing touchdowns and 1,000-plus rushing yards in a two year span. Wilson's 52 touchdowns and 1,028 rushing yards through his first two seasons put him alongside Randall Cunningham (1980-90) as the only players in NFL history to record 50-plus touchdown passes and 1,00-plus rushing yards in any two year span.
Russell Wilson has had a great NFL career and will go down in history as one of the all time greats, not only for his performance on the field, but his actions off the field. While he's loved in Seattle for delivering the franchise's first Super Bowl title, fans will always adore Wilson, both the player and the man.