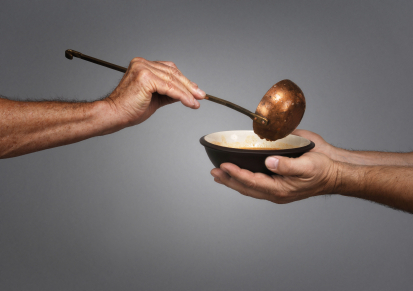 There is a wonderful "grassroots" movement growing around the country with the mission of feeding the hungry, disadvantaged and homeless and it's called "EMPTY BOWLS."
"EMPTY BOWLS" events are popping up everywhere and we certainly need them. According to the USDA, over 36 million Americans are food insecure…and just do not have enough to eat. Yes, times have been tough but I still believe that this country has enough that no one should be going hungry. We CAN do something about this.
This "grassroots" effort is a great concept that is quickly catching on. It's easy to do, it creates community and feeds people. YOU COULD EVEN START AN "EMPTY BOWLS" EVENT IN YOUR COMMUNITY! How about that!??
Here's how it works:
1. Organize a community meeting in your town or city AND RECRUIT volunteers to help feed the hungry or homeless in your area.
2. Ask local schools to make special bowls in their art classes and local artists to do the same.
3. Once you've collected enough handmade bowls…throw a fundraiser at your local church or community center. Serve soup and bread in the bowls…which people will buy. Then, give the proceeds to your local Food Panty, Soup Kitchen or Homeless Shelter.
4. For information about hosting your own "EMPTY BOWLS EVENT" visit their website.
Empty Bowls is a non-profit organization "dedicated to positive and lasting social change
through the arts, education, and projects that build community."
I'm going to challenge our readers to step up and participate.
I'm planning to host an event in my area around Thanksgiving and I'll report back how it went. You do the same and let me know how it goes. Sound good?
Come on…it'll be fun! Just think of all those sweet bellies we'll be feeding and how good it'll feel to know you did what you could to make a difference.
Peace and Blessings!