I just visited The Writers Room. It is a wonderful place where serious writers write lots and lots of real books: the evidence is on shelves when you walk in. I'm grateful that three professional contacts wrote me glowing recommendations and thrilled that I've been invited to join. But I don't think I will.
It promises to be a quiet place for writers to work. And it is. The main writing room is large and dimly lit, and signs say to set phones and laptops to mute. (Can my laptop mute? I didn't know.)
There's a napping room, a typewriter room (I love it that that exists, although the woman giving me the tour said that it's rarely used), a phone room (for phone interviews and checking messages), and a kitchen. And it's in The Village, which to my way of thinking is the literary heart of this city and maybe of the English-speaking world. But I'm not sure it's the place that I'd do my best writing.
I've been writing in cafes for a very long time. I can remember sitting at a table in Camdenton, Missouri, in 1989 and coming up with the opening lines of the first version of The Love-Powered Diet: "This is your fairy godmother speaking…." I sometimes write in my office and I sometimes write in libraries, but mostly I write in cafes because that energy — and the sights and the noise — translate into inspiration and come out as words.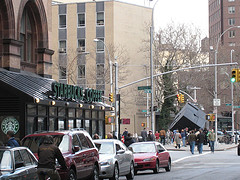 Right now, for instance: I'm on an enclosed porch in a Starbucks at Astor Place (the photo shows you exactly where I am — right under the round Starbucks sign). I see Christmas lights and a lit-up billboard from The Gap with babies in red checked rompers and big, silly snow hats. There are beautiful people around me and if I needed a napkin or a synonym, I could ask one of them. Admittedly, it's a little drafty and when my battery gets low I'll have to move since I wasn't able to score an outlet, but for this brief, shining moment, I'm lovin' it.
Before I met William, I dated a very nice man named Bob who, as he was approaching the subject of breaking up, said, "I just want peace and quiet." And I said, "I'm just beginning to make noise." I guess it boils down to knowing oneself. What do you need today to do what you came here to do? What inspires you? What makes you happy?
Photo credit: Shamrock Tattoo