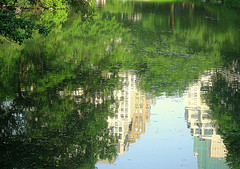 As my career as a daily blogger ends, I've looked back over the year and pulled out my favorite posts, the ones that meant the most to me, or that I had the most fun writing. I hope you'll enjoy reading (or rereading) these. It's been a privilege to share my thoughts with you.
Angels Unawares, Feb. 4, 2009 — The story of the taxi driver I rode with in Florida. We should have had nothing in common, but we ended up hugging at the entrance to the airport.
Aspen's Obituary,
June 28, 2009 — You guys were such a comfort when our amazing 15-year-old dog, Aspen, passed away early this summer.
Every Little Life
, July 30, 2009 — This could conceivably be the only blog post ever written about a crayfish.
Prosperity — And Living a Charmed Life
, August 28, 2009 — This was a response to several negative comments I'd received about being "rich" and "out of touch". Some people wrote afterwards and said that I shouldn't have to defend my life, but I found it so fascinating that, not actually being rich, my life looks that way to people. I figured it was a good thing.
National Punctuation Day
, September 24, 2009 — I love the English language: words, turns of phrase, descriptions that paint pictures, even punctuation marks that make it all orderly and sensible. It was fun to write about punctuation and read comments from people who appreciate it as much as I do.
A Schedule to Consider
, December 3, 2009 — Inspiration from the daily schedule kept by Thomas E. Powers when he wrote his classic of the spiritual life,
Invitation to a Great Experiment.
Thanks to each and every one of you for being part of this adventure. Let's stay in touch.
photo credit: Rich Eye