Tomorrow is my birthday, and I'd like to share with you my thoughts on celebrating the once-a-year holiday we all get that's out very own. The excerpt is from my book, Younger by the Day:
Having Brilliant Birthdays
from
Younger by the Day: 365 Ways to Rejuvenate Your Body & Revitalize Your Spirit

by Victoria Moran
Published by HarperSanFrancisco
One way to embrace the present, accept reality, and get a good party in the bargain, is to play your birthday to the hilt. The over-40 birthday needs to be relieved of its bad rap. Your birthday is when you can flagrantly ask for jewelry and eat cake and ice cream at the same meal. Every birthday calls for a fete geared to it and to you. It warrants an entire day, and if that means taking the day off work, by all means take it. Or decree the following Saturday or Sunday as your birthday this year. If the Queen of England can put hers off until the weather is good, you can postpone yours a few days to celebrate properly.

On your birthday, whether the actual day or an altered one, you deserve to get as much of what you want as you can stand or as much as you can afford, whichever comes first. Plan it in advance so that every minute, every meal, and every detail is special. Some women like to spend the first day of their personal year in solitude and reflection; others crave the company of friends. You choose–it is your day. The past couple of birthdays, I've given myself one of those "days of beauty" (massage, facial, hair, nails, even a cute little lunch) at a salon. I think it will be a tradition that sticks. After all, it's the body's birthday, so the body should stand to benefit.
I'm also fond of birthday symbolism. I've had luncheons and invited friends who represented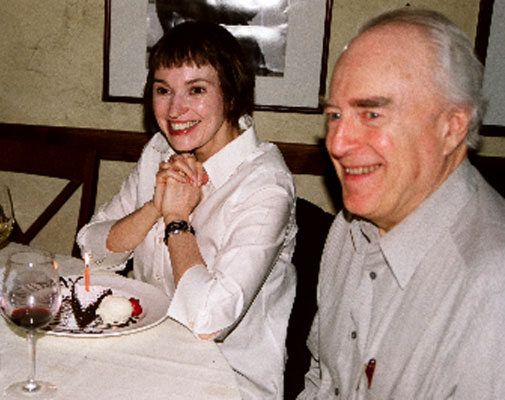 qualities I most admire and would like to emulate. I once attended a "give-away party" in which the celebrant took "No Gifts Please" to a new level: she set up her living room like a tag sale, but without tags. Guests were invited to stock up, free of charge, on whatever they could use; the hostess received the gifts of fewer possessions and more freedom.
Another friend had a "wisdom shower." We were supposed to bring her, in lieu of a present, some snippet of wisdom we'd learned in our lives that she could add to what she'd learned in hers. Still another woman I know sent out invitations that said, "Help Make My Life Count." Inside recipients were asked to make a contribution to the charity of their choice and, at the birthday party, share with the others about the work of that charity.

If you're coming upon a big birthday, a decade or half of one, or the first birthday after a major life event–your last child's leaving home, perhaps, or the start of your business–you're looking at more than a day. This is a turning point deserving of more than dinner and a gift certificate. Would you like to go away to some spot that holds fond memories, or somewhere you've never been but have wanted to see all your life? Does this birthday beg to be marked by the ocean or in the mountains or with a view of the Eiffel Tower? Maybe you want to stay home and hold a lavish celebration, or an intimate gathering of only those people who are closest to you.

Write about your options in your journal, even if your next milestone birthday is several years away. Plan ahead so you can make nearly any birthday dream come true. The big ones don't come often. Pull out the stops for them. What you do that day can set the tone not just for a year but for a decade or an era. Make it meaningful and filled with promise.
(The photo above is a previous birthday. I'm shown here with David Minshall, longtime partner of the gifted photographer, Jan Goldstoff.)