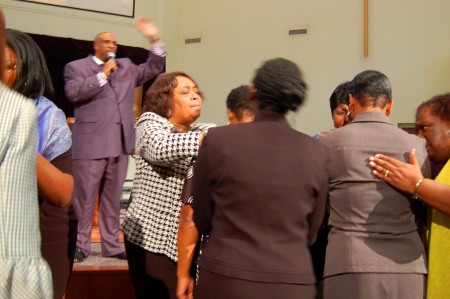 One year ago, Amanda and I embarked on our Year of Sundays tour of the Portland church scene. To celebrate, we decided to head back to my roots in North Portland and visit a full gospel church, just like we did in our first week of blogging. That's how we landed at Emmanuel Temple Church. Can I have an amen!
Hard to believe it's already been a year. Since it has started, we've met some amazingly good people (even if they are believers), we've been picked up by a big religious news network and already have a speaking gig or two of our own lined up. Not to mention a crazy-beautiful love story. And 2012's Year of Sundays is shaping up to be, as Larry David would say, pretty… pretty… good.
But stop back in a couple of days. You have GOT to hear what I have to say about the Emmanuel Temple All Star Band and Choir.