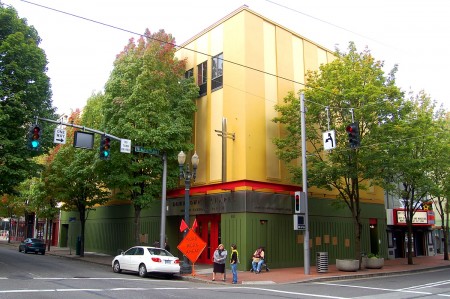 10 months into our Church Tour 2011, I've come to a few conclusions. For one, church gets done best when it serves people who need religion the most. Whether by dint of circumstances beyond their control (often financial and mental health) or what we euphemistically call "poor choices," it's safe to say that the homeless are among those who could really use a good church. Thank Allah/Jehovah/Zeus for the Downtown Chapel, a Roman Catholic church serving Portland's Old Town.
Located on NW Burnside and 6th, the Downtown Chapel is a modern sanctuary that eschews the downscale funk you might expect to see in a "skid row" church. As if taking its cues from a SoHo loft designer, it features a post-industrial design scheme of acid washed concrete floors and broad, flat planes painted brown and olive. It's functional, modern and dignifying at the same time—a tough feat, when you stop and think about it. Just the kind of place to attract both its target parishioners and the better-off donors needed to keep its doors open.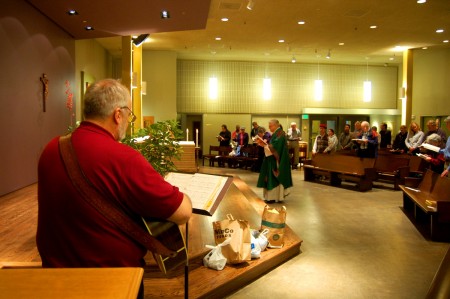 Before I tell you about the service, let me add a word about another conclusion I've come to over the last few months of church-hopping. As you might have noticed from, say, my post on the Multnomah Friends' (Quakers), I have a short fuse when it comes to bringing politics into church. The two don't mix—or, at least, they shouldn't. And so, cut from the same streetwise, straight-talking Catholic cloth of, say, Karl Malden and speaking without a microphone or notes, Father Steve Newton stepped away from the pulpit to hold forth on the topic, "What is the Church's Responsibility to the State?" I listened with (mostly) rapt attention.
Newton once visited the concentration camp at Dachau and observed that the town had no fewer than 12 churches. Where were those religious leaders, he mused, when genocidal atrocities were being committed literally down the street? Since some of the Nazi perpetrators probably attended those churches, that could have been a good time to fudge the line between church and politics to deliver a pointed sermon or two about the sanctity of life and how God might frown upon their novel use of shower stalls. But what about lesser matters, such as how to vote in an election year?
"The church has no right to tell you how to vote," Newton declared. He added, however, that the "church has the responsibility to reflect on these issues in the context of faith, so that each individual can make a choice." For me, that hits just the right tone. I quit going to the religion of my family tradition years ago because it became increasingly offensive that I should be told what to think and how to think it. After enduring years of mind-numbing indoctrination, I now yearn to have my assumptions challenged and hope never again to experience the warm, sitting-in-my-own-piss feeling of being comfortable in the rightness of some list of hand-me-down convictions. As an atheist, I have to make up my moral and ethical code as I go along. A thought-provoking sermon delivered with respect for my adult autonomy can help with that.
Which brings me full circle to the Downtown Chapel and the services it renders to its members. It's very easy to think of the homeless and destitute as merely "needy." Such condescension is just as unhelpful as calling them lazy. Yet that's what society—not to mention their own interior monologue—keeps saying. Thus, this parish's greatest need isn't for food but for dignity. That's what it provides seven days a week. For instance, along with the standard soup kitchen, food pantry and free clothes and blankets, they also provide assistance for people trying to track down their birth certificates so that they can apply for a job. Soap, shaving razors and a haircut so they can look and feel their best at the interview. Bus tickets so they can get to work.
Poor hygiene, inadequate footwear and transient life itself take their toll on a person's feet. Footcare specialists at the Downtown Chapel offer podiatry services that start with a good soaking and massage and end with a clean pair of socks. I challenge you to think of a more dignifying experience than that. (Jesus couldn't come up with one, either.)
Even the design of the church makes parishioners feel a bit taller. And with a priest advocating, not infantile dependence on God, but the self-sustaining message of individual choice, what you end up with is a complete package custom designed help people learn first-hand what it feels like to pull their life together, standing on their own two feet and thinking for themselves. In other words, Downtown Chapel is working overtime to make itself useless to its members. I can't think of a higher calling than that.